TAIPEI, Nov. 26
th
, 2021. On Friday night, IMBAers were excited to attend the annual Multicultural Night which gives students the opportunity to share and learn about the diverse backgrounds and traditions of their classmates through tasty food, lively music, and dance.
A couple of hours before the actual event started, multiple students from different nationalities gathered at the IMBA Student Lounge to prepare the meals to be presented during the traditional potluck. The long table assigned to showcase the food wasn't nearly large enough to hold the wide variety of scrumptious dishes and drinks brought by IMBAers from 22 countries.
All meals were properly introduced by each participant, with information such as when and how it is traditionally eaten, how to prepare it and with which ingredients, and even explanations regarding the origin of the dish's name or a related funny story. Some of the appetizing meals included Char Siu from Hong Kong, Kaiserschmarrn from Austria, Sisig from Philippines, American Black Bean Avocado Layer Dip, German Milchreis, Vietnamese Spring Rolls, French Croziflette, and Indonesian Gado-Gado.
Thai participants teamed up to bring one of the largest spreads of the night, with an assortment of traditional delicacies from their country that left many mouths watering. Japanese students weren't left behind by bringing Inari Sushi in the shape of cute bears. The Honduran Baleadas were one of the first foods to go as everyone quickly tried to get a piece, closely followed by the Turkish Baklava. Czech beer and mulled wine were the popular choice for drinks. The Korean ultra-spicy noodles were the only food to be suspiciously left aplenty, however.
Of course, Taiwanese cuisine couldn't be forgotten. Local students grouped up to introduce sweet, steamed buns filled with flowy chocolate sauce or tapioca pearls, traditional Hakka-style mochi and caozaiguo, steamed black sugar cake, Peking roast duck, rice crackers, century eggs, ox-tongue biscuits, Prince noodles, and Kuai Kuai snacks.
Holly Chen, President of the IMBA Student Council, was thrilled with the amount of people that joined in the occasion, especially after the difficult months of lockdown and COVID-19 related restrictions hampered social interaction in Taiwan.
"It is nice to get everyone back together for this kind of event so we can get to know each other better while eating delicious food and having a lot of fun," she said. "This encourages the Student Council to continue organizing similar events so that our experience in the IMBA is richer and our newly formed friendships grow stronger."
After getting a taste of all food and drinks available, everyone proceeded to the main lounge to listen to several presentations about the countries represented that night. Ales Jurik, VP of International Relations and one of the main organizers of the event, launched the speeches by talking about social etiquette in different cultures and facts of Taiwan from an international point of view. IMBAers from 10 other countries followed suit, talking about their home customs, foods, and main sights, including contributions from Malaysia, Saint Kitts and Nevis, Ecuador, and Saint Lucia.
Nearing the end of the event, the almost 50 people in attendance continued to eat, drink, and enjoy the good company of their classmates and upperclassmen, whilst discussing unique traditions, dances, and random facts of their countries.
"The aim of this Multicultural Night was to provide an opportunity to share each other's cultures and to learn about various habits that we might encounter around the world," Ales said. "The enthusiasm that we saw from everyone who joined this event exceeded our expectations. We hope that everyone enjoyed this event and learned about other countries! Thank you all for your participation!"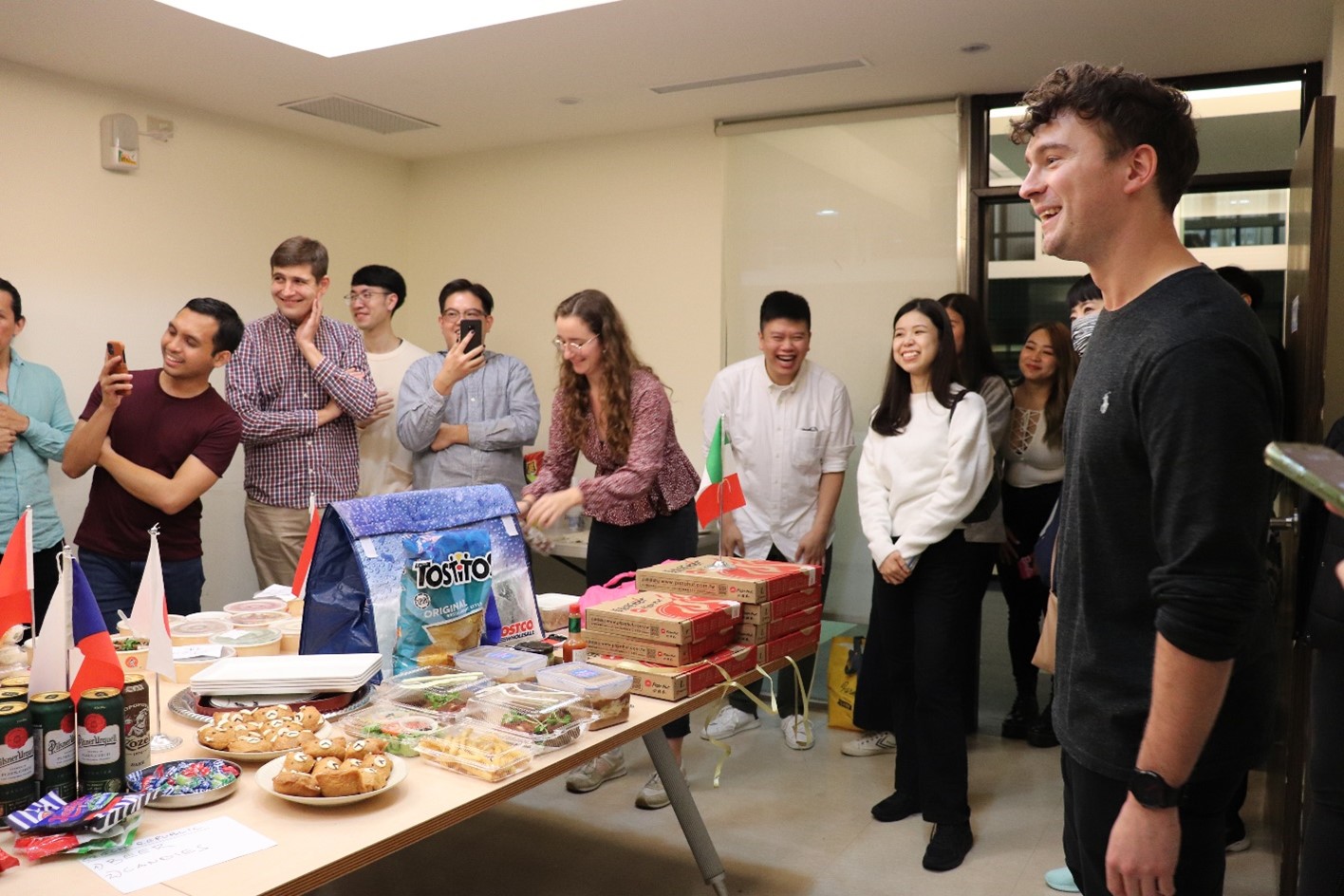 The event began with the introduction of each dish.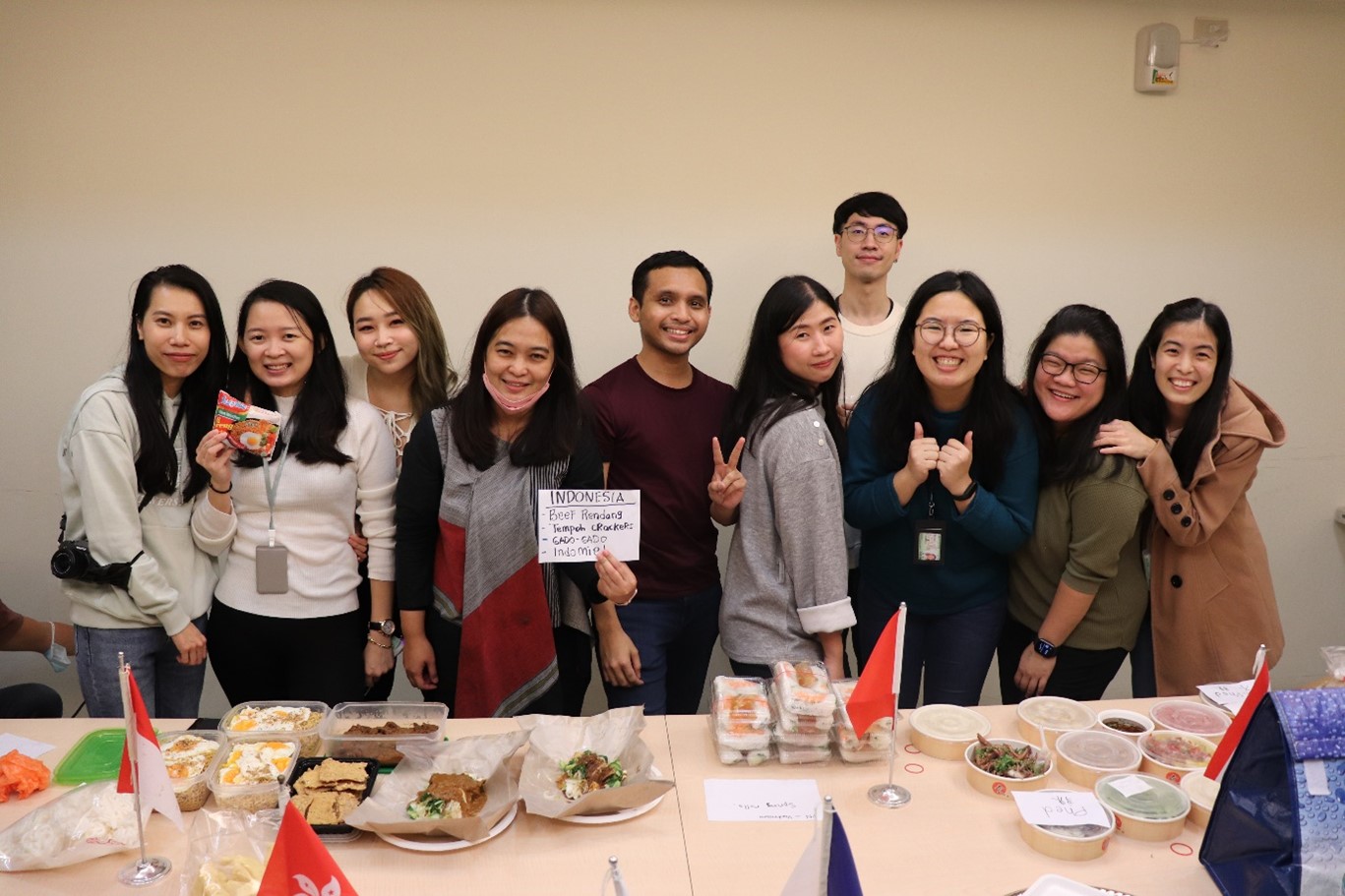 Southeast Asian students were proud to present their traditional food.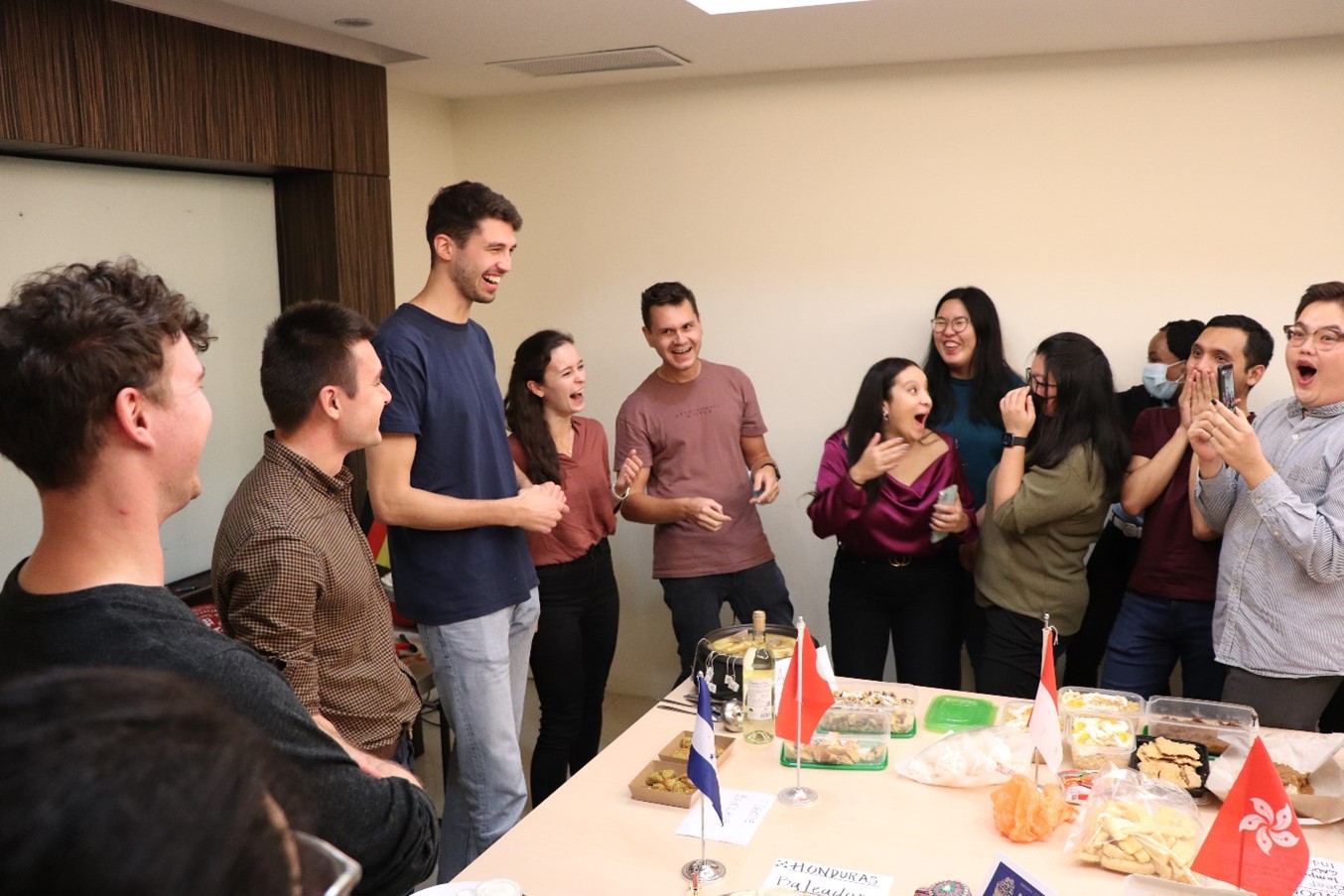 IMBAers lightheartedly told jokes and stories from their countries.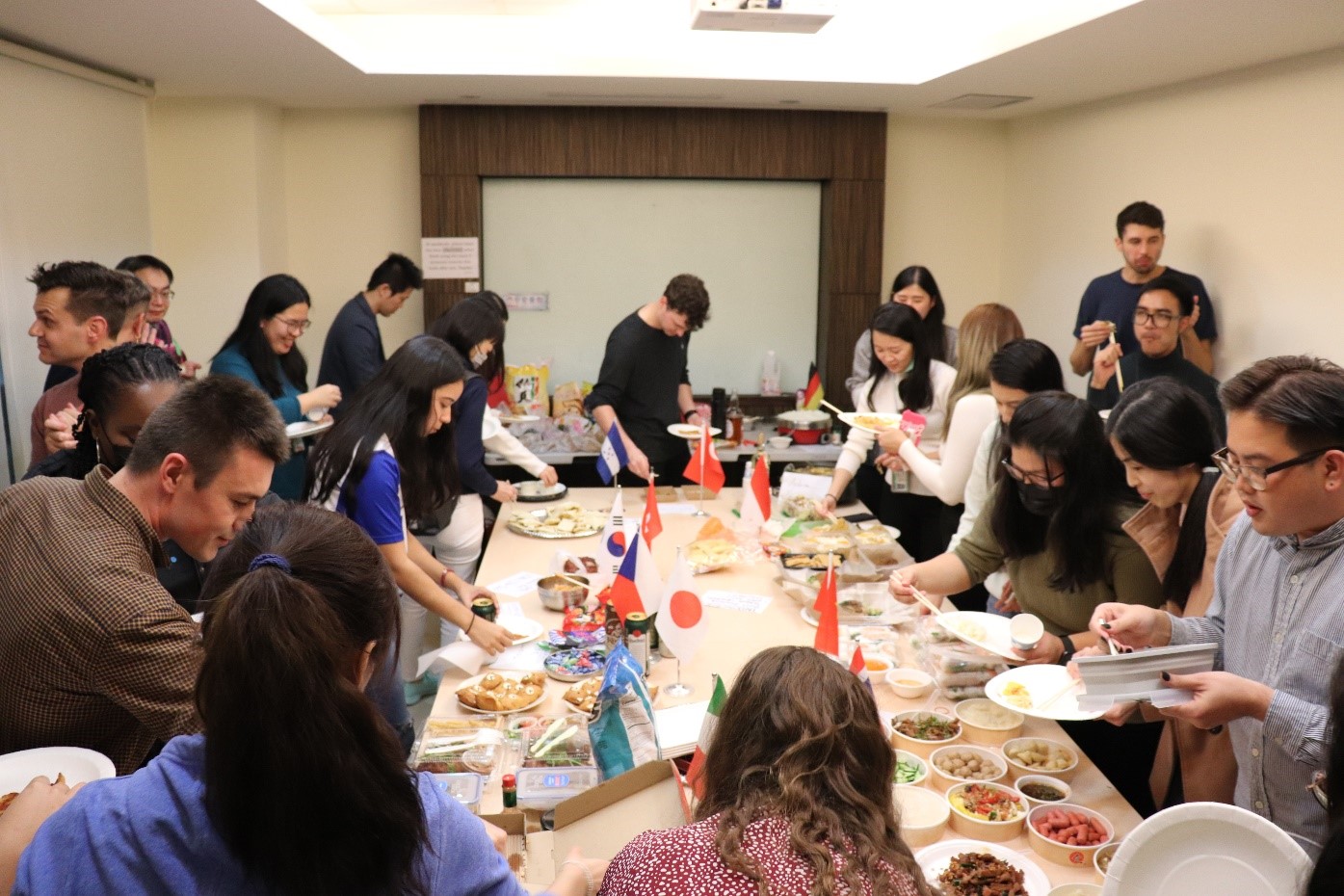 Everyone rushed to get a bite of each dish.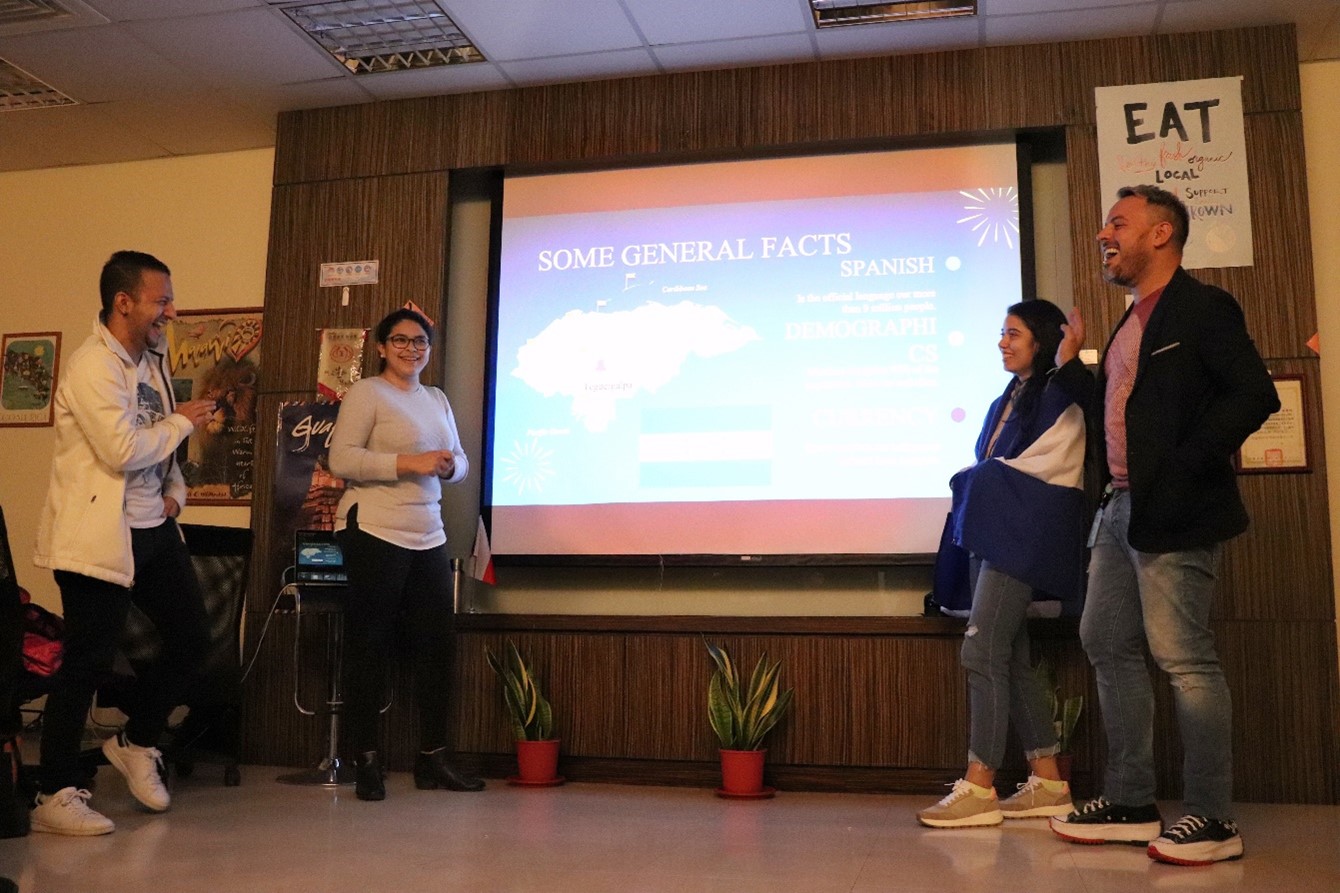 Students from Honduras sharing a presentation about their country and their traditions.
IMBAers after a fun and food-filled evening. Thank you all for coming!