Required Courses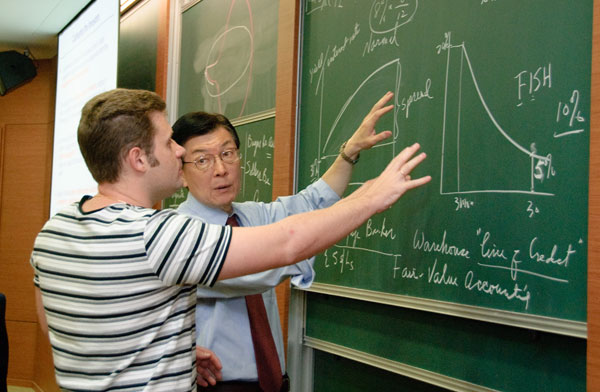 IMBA core courses build students' foundational knowledge in general management functions. Students are required to complete the following courses, which account for 25 credits of the 42 total credits required for graduation.
 
Accounting (3 credits)
The course introduces to students how both financial and non-financial information is developed across all management functions – finance, marketing, operations, information technology, and human resources. Students can expect to develop an understanding of the applications of strategic cost management principles for business and not-for-profit organizations and to develop skills in applying these principles through problems and cases.
 
Business Quantitative Methods (3 credits)
The course emphasizes applications through the use of case analysis/data sets, presentations, and computer exercises. The focus of the course is as much on modeling and presenting solutions to business problems as on understanding statistical methods.
Corporate Social Responsibility and Ethics (1 credit)
This course is designed to train and equip students with the means to be responsible and ethical business leaders of the future. In recent years, the impact of financial scandals, changes in the financial environment, and globalization have increased the importance of corporate social responsibility (CSR) and sustainability. This course incorporates social responsibility and ethics concepts with case studies on different areas of study, including supply chain management, international operations, and information security management.
 
Financial Management (3 credits)
This course provides students with the basics of financial management and a taste of how financial analysts manage financial resources in the real world. The goal is to enable students to understand and appreciate:
The fundamentals of finance and the factors that contribute to maximizing shareholder wealth;

The concepts and knowledge a finance manager should possess; and,

The tools of financial analysis and control.
Leaders Forum (1 credit)
This course includes a series of speeches by top executives. Students will have the opportunity to interact with real-world business leaders face to face, making it a great learning and networking opportunity.
 
Leadership and Team Building – LTB (2 credits)
This course requires students' active participation in group activities, discussion, and sharing of the assigned materials to develop students' abilities to recognize the duty and responsibility of individual and organizational effectiveness and to prepare them to be able to determine when and where to apply leadership, creativity, and team building in business.
 
Managerial Economics (3 credits)
The objective of this course is to enable the efficient management of customers, suppliers, competitors, employees, and the regulatory environment. This course will introduce basic microeconomic theories and then develop principles of cost, strategic, and organizational analysis. Managerial economics provides fundamental building blocks for various related disciplines such as cost accounting, marketing, corporate finance, and business strategy.
 
Management Information Systems (3 credits)
This course aims to enhance students' relevant awareness, survival, sustainability, competitiveness, productivity, and creativity in the acquisition of wisdom in the digital age. It first discusses the role of information and communication technology (ICT) in corporate strategy, further the use of ICT in corporate strategy depends on appropriate technological infrastructure and on the ability of the firm to successfully manage its technology. The course covers critical issues in managing technology as a strategic asset.
 
Marketing Management (3 credits)
This course focuses on the fundamental aspects of marketing management with case studies in the areas of distribution and marketing information systems.
 
Strategic Management (3 credits)
This course is the capstone of the IMBA program and is designed to train students to analyze business situations from the vantage point of a practicing General Manager. Students will learn how to make business decisions that take into consideration the company as a whole by incorporating issues discussed from functional management courses such as marketing, financial management, and strategic talent management.
| | |
| --- | --- |
| Subject | Credits |
| Accounting | 3 |
| Business Quantitative Methods | 3 |
| Corporate Social Responsibility and Ethics | 1 |
| Financial Management | 3 |
| Leaders Forum | 1 |
| Leadership and Team Building – LTB | 2 |
| Managerial Economics | 3 |
| Management Information Systems | 3 |
| Marketing Management | 3 |
| Strategic Management | 3 |