October Breast Cancer Awareness Month by the NCCU Oath Club
The Oath Club is the corporate social responsibility and ethics club at NCCU. Founded and managed by IMBA students from the College of Commerce, the club aims to raise awareness about social and environmental issues in Taiwan through cultural, learning and sports activities.

As part of these activities, last October 22nd, the Oath Club held the Breast Cancer Awareness Month event, in which they were promoting and educating about healthcare and good practices for the prevention and treatment of this very common cancer among Taiwanese women. Alongside the Taiwan Breast Cancer Prevention Foundation (臺灣乳癌基金會), they were passing information and having an engaging conversation about the importance of a good health check at a very young age.

As stated in the Foundation's informative flyers, in Taiwan, breast cancer has become the second leading cause of cancer in women's health, subordinate to cervical cancer. With increasing living standards, changing eating habits, which is more westernized, and the tendency of couples bearing children later in life has increased tremendously the incidence rate of breast cancer. Compounding the problem is the lack of medical knowledge and awareness in Taiwanese women. This has been indicated by the detection of lesions that are more than 2cm in size, well beyond the early diagnostic capabilities of today's technology. In Europe and North America, where breast care education has been promoted, detection and treatment occur in much earlier stages.

Besides sharing information, the Oath Club was selling the NCCU hoodie of pink color, very meaningful for this cause, at a very special price to fundraise and support the efforts of the Taiwan Breast Cancer Prevention Foundation (臺灣乳癌基金會), which include research, prevention, and treatment of the breast cancer and support for those women and their families during and after treatment.
With the support of all the volunteers and the nurse from the foundation the event was a success, meaning that our multicultural student body and the Taiwanese local organizations have one thing in common; the love for Taiwan and the importance of giving back to this beautiful community.

Since the club philosophy is to promote and implement different activities about social responsibility and ethics, the club is organizing more events for the upcoming months:
       Green Entrepreneurship Talk on November 19th.

       Chinese New Year gathering with the elderly center in January 2020.

       Wanxing School Cultural Exchange in May 2020
In view of this, the club also organizes fundraising events like bake sales, NCCU scarves, and green cutlery sets, all will be announced as the dates come closer.

If you want to support and/or join the club, you can write to thenccuoathclub@gmail.com, also, you can follow them on Facebook here: https://www.facebook.com/NCCU.Oath.Club/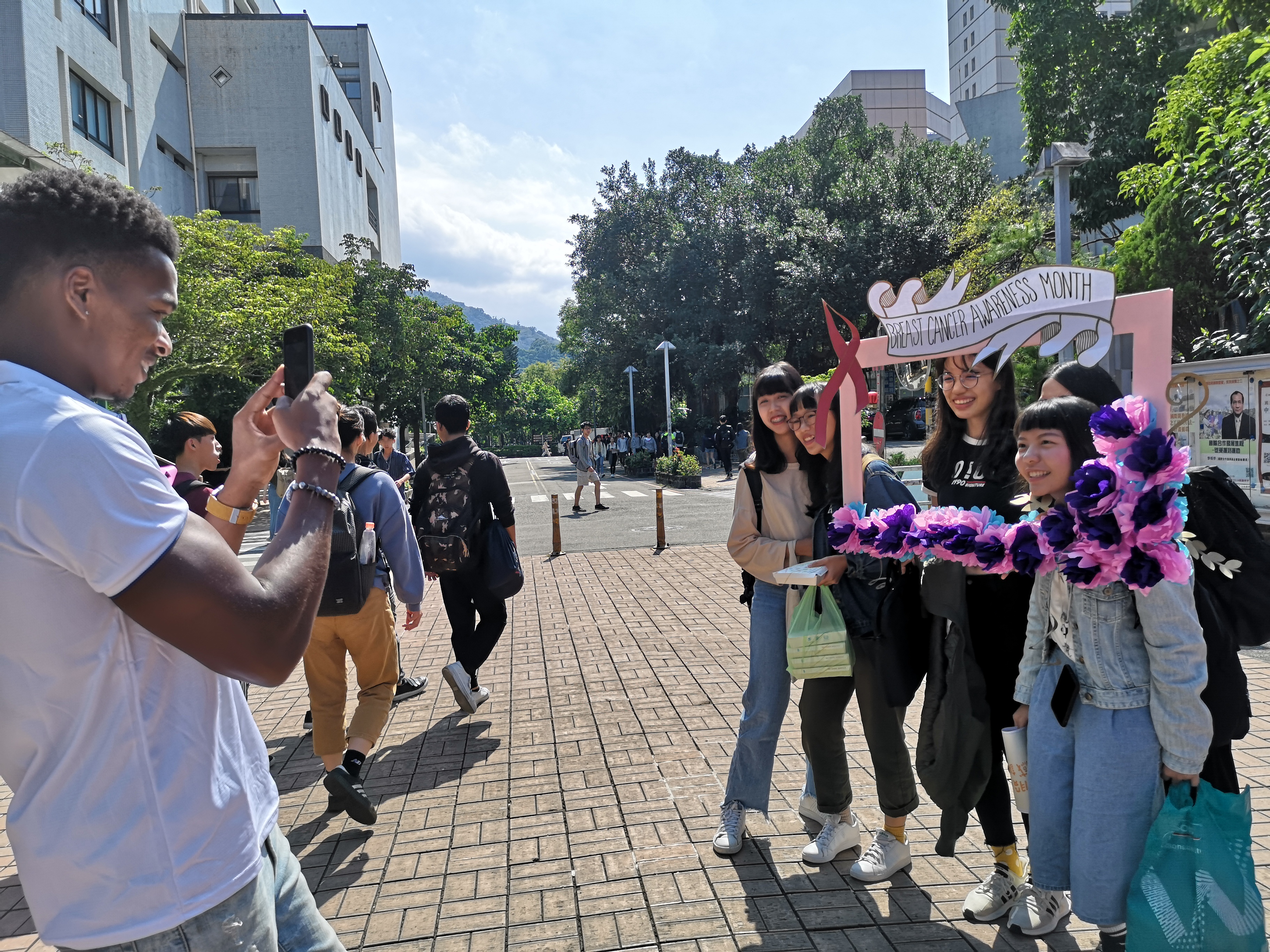 Students joining the activity and taking picture.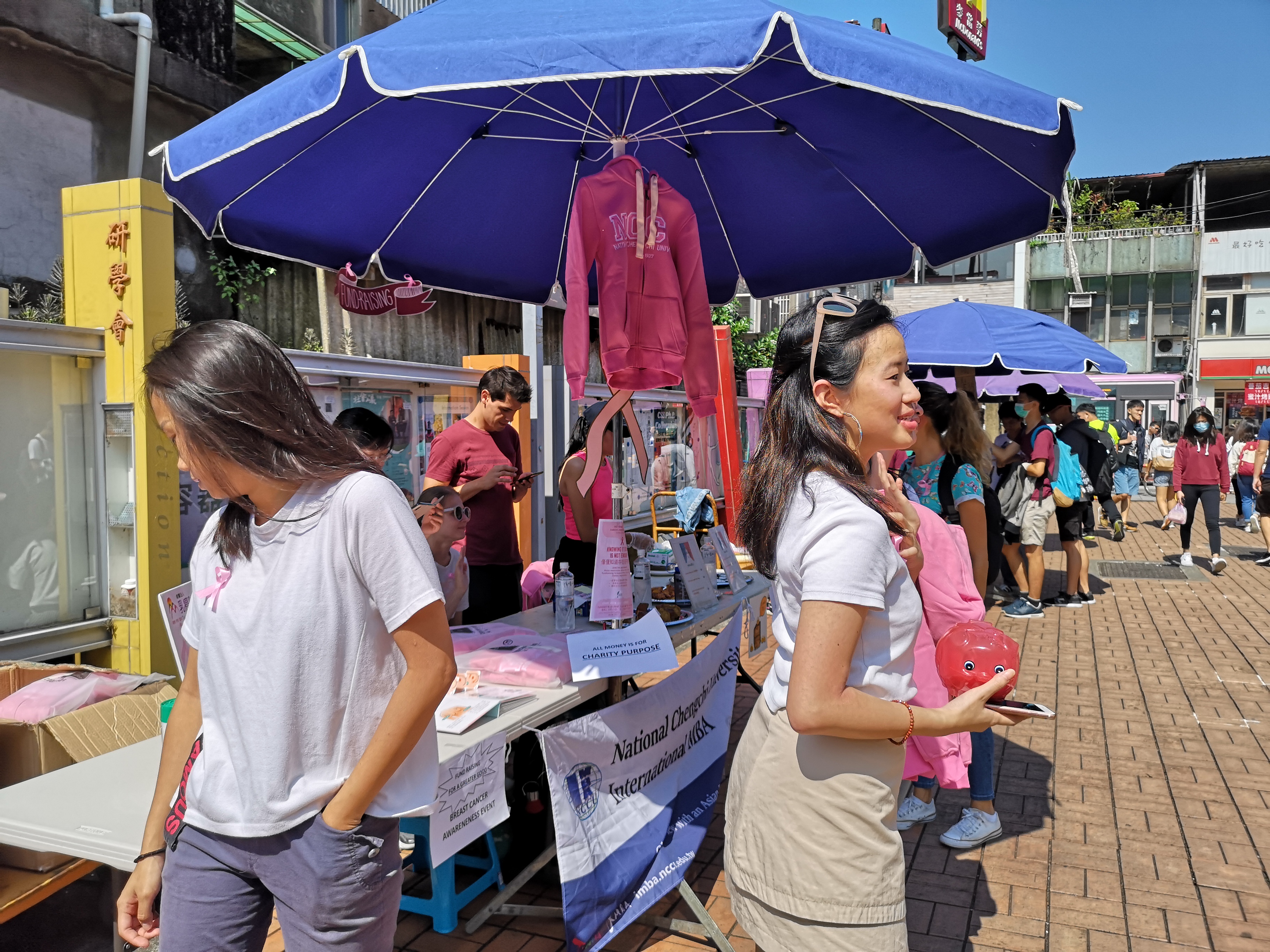 Fundraising by selling the pink hoodie - all proceeds will be donated to the Taiwan Breast Cancer Foundation.