IMBA students shined at NCCU 2019 World Festival.
NCCU held its annual World Festival from May 14 - 16, a fun activity where students have the opportunity to taste international food and have a glimpse of other countries culture. This exciting festival involves many language departments, student clubs or entrepreneurs that sell and promote food and drinks from their home country.

This year the World Festival had the participation of 27 food stands, representing over twenty countries or regions. With a diverse student body, NCCU had the participation of many international students. IMBA was not the exception, with several entrepreneurs that work hard during three days to offer their countries cuisine.

Among these, we have Tonito Nguyen, a current senior student that for second year participated, along with other students from Vietnam. He shared that their purpose at the World Festival was to introduce Vietnamese food, and as an IMBA student it gives him the "experience to do business and earn profits". But more than earning some extra money, Tonito explained how the World Festival promotes the cultural and language exchange among Vietnamese and Taiwanese students that are learning Vietnamese. As for food, they choose to offer a different menu every day, from their tasty handmade spring rolls to refreshing ice cold coffee. Delicious fresh food and friendly faces captured the public´s attention, as many wanted to take a picture with the Vietnamese students that wore their traditional costume.

Another IMBA student that succeed in this festival was Nicole Engelbrechtov, a first year student from Czech Republic. Despite the hot weather, people stood in line for over twenty minutes just to try the food from the Czech booth. Czech students also prepared a different version of main courses for every day, including chicken paprika, mashed potatoes with pork tenderloin and a vegetarian version of "Langos"- a top choice between customers-. But what is exactly "Langos", well Nicole explains that "is a popular dish in Czech Republic during festivals -like this event- in the summer with a glass of beer, or just an appetizer made at home".  The combination of cheese, ketchup and a secret ingredient sauce in a handmade bread made "Langos" a must try for many attendants of the festival. "The demand was higher than expected", Nicole shared, becoming a successful project to share and promote Czech Republic food.

IMBA entrepreneurs were also represented in the drinks category. Peace Thitathammo and Thacha Tapaneeyakorn proudly sold their renowned Thai Milk Tea. This is the second time Peace participates in the World Festival with this refreshing and delicious sweet tea, perfect for the summer. Students eagerly approach to their booth, as they know Thai tea is easily sold out. They sold two colors of milk tea the traditional orange and a green one. The orange milk tea uses black tea as a base and the green milk tea uses green one, yet their flavor is quite similar as the rest of ingredients are the same. They also introduce a new product "Thai Nom Yen" or as Peace explains "a pinky iced milk that is very famous and traditional in Thailand".
 
Last but not least, at the World Festival students were able to be dazzled with all the international desserts, a perfect match to end up a fun afternoon. Sebastien Gonzalez, a first year student, decided to sell ice cream, which in his words was a "good product, affordable, with a bit of French culture, sweet and suited for the weather". Their two top sellers were lemon and passion fruit. The fruit taste of these refreshing flavors was a relief from the hot weather. They also promoted a new flavor "pepper and raspberry", a combination that is more common in French salad dressings rather than ice cream. Yet, this unique flavor was for some a really delicious option. In his opinion, this festival was a great opportunity to get people together, not only the students that came to try the food, but also between the different participants. People gather to ask questions about France, its culture and even got a chance to practice the language.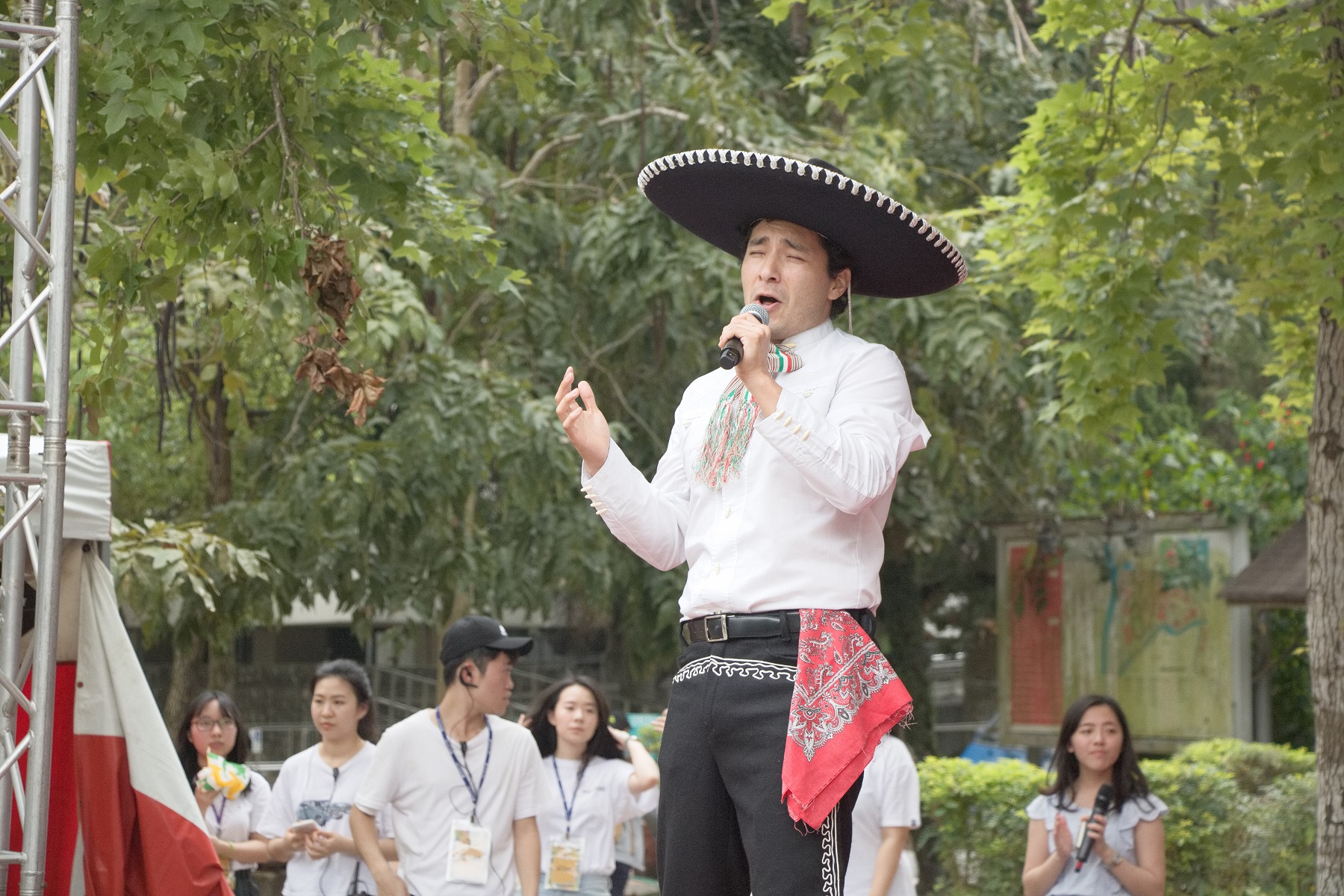 Alonso Mendez performing a mariachi song from Mexico at the World Festival.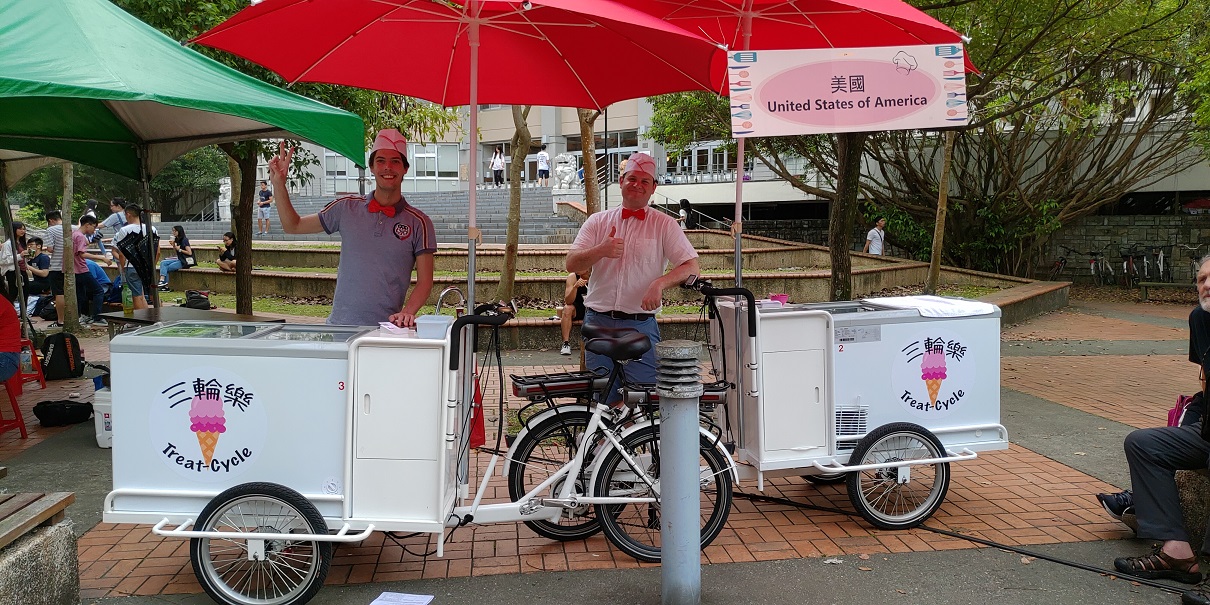 Participants of the food festival enjoyed a delicious ice cream from Treat-Cycle, an entrepreneurship project of IMBA Alumni Luke Stein.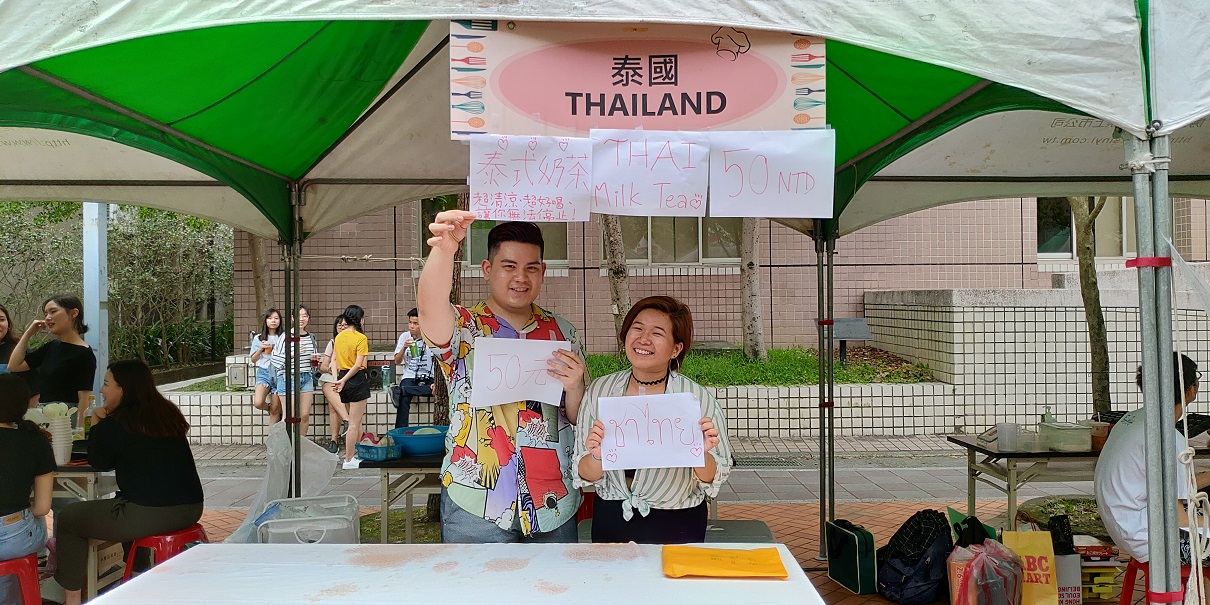 Peace and Thacha proudly represent Thailand with the famous Thai Milk Tea.