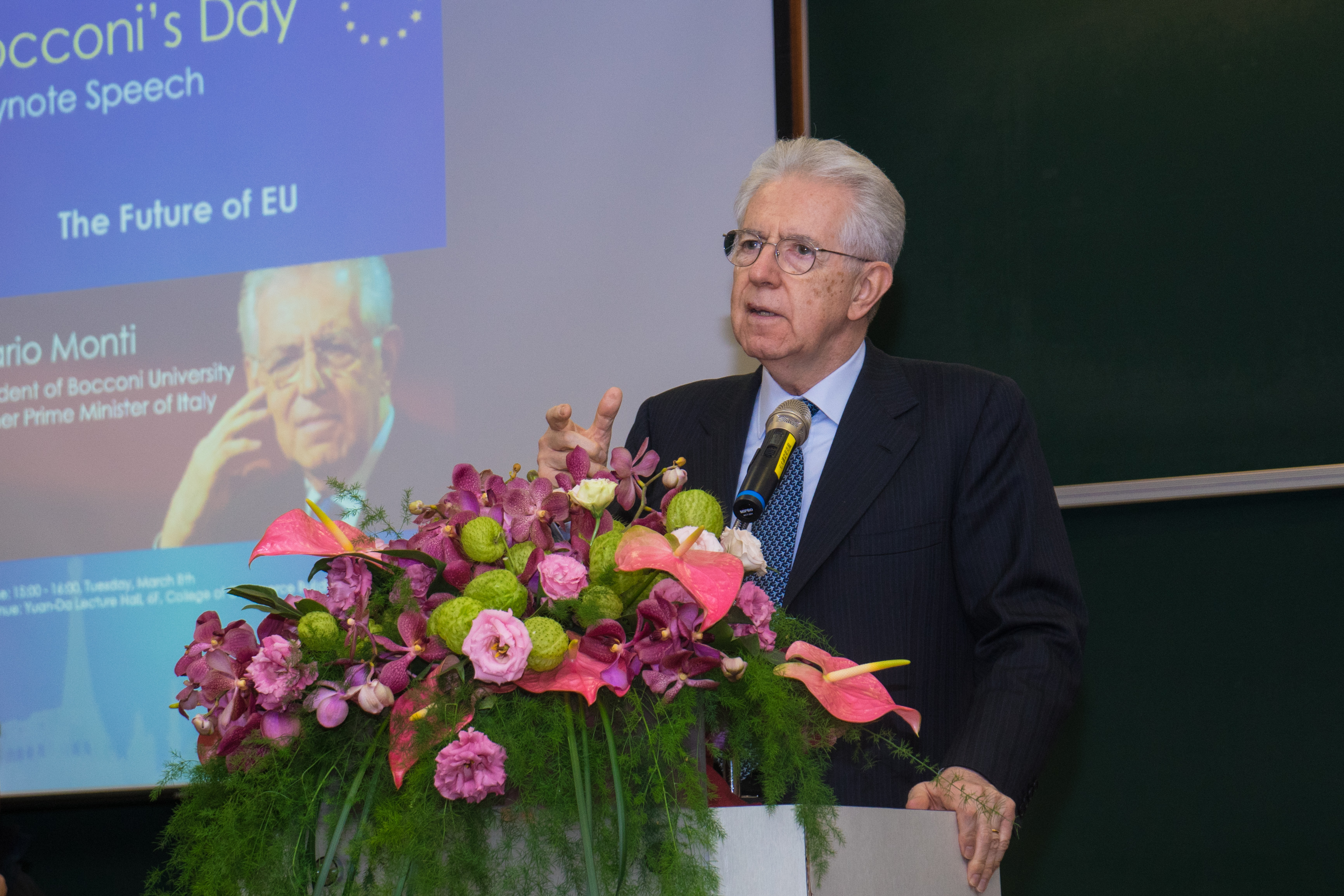 On March 8th, the College of Commerce of National Chengchi University (NCCU) welcomed Mario Monti, the President of Bocconi University and the Former Prime Minister of Italy, to give a keynote speech on "The Future of the EU".  The partnership between Bocconi University and National Chengchi University has been a long running partnership, sending many students on exchange between both universities. Many students, faculty, and guests were in attendance and gained a greater understanding of the situation in Europe through the sharing given by President Monti. 
 
President Monti gave insights into further integration of European nations, expressing that the future of the EU is not a simple topic to speak on. President Monti nevertheless highlighted the importance of integration for European nations. First, "integration of the EU is a major example of integration of countries through agreements, common forms, which helps keep peace, and foster economic development". Second, "by integrating member states, the EU transformed each of them for the better, and in the direction of modernization".
 
Born recently in the 1950s, the EU has developed enormously. Beginning as an adventure among 6 countries, there are now 28 member states, all forging for greater unity and more or less a single market, single currency, and expansion toward the east. Italy greatly benefited in the last 60 years by being part of the integration process. Although discussions of a Grexit or Brexit still continue to take place, President Monti does not believe that either will take place. In the case of Britain, he sees an unlikelihood Prime Minister David Cameron will want to leave a legacy of double "disintegration."
 
The combination of two crises, the Eurozone financial crisis and the mounting number of refugees and migrants, may pose as challenges for the European Union. In terms of the refugee crisis, many question the ability of the EU to receive high numbers of refugees and migrants. On the other hand, the EU and the ECB have created a perception of solidity and strength, similar to what characterized the strongest currency prior to the European system – the German Mark. Thus, despite the crises facing it, Mr. Monti is still positive on the future of the EU.
 
President Monti served significant posts in the EU over the past 3 decades, allowing him to offer many great insights to all in attendance. Although the future of the EU is not an easy topic to speak on, President Monti identified the process of integration as an important area of focus, even with the problems that face the European Union. With a more effective political system and longer-term perspectives, the EU will be more capable of continuing with integration.