TAIPEI, Oct. 16, 2021. On Saturday afternoon, IMBA staff and students were delighted to welcome Mr. Roger Chen, LINE Taiwan's Managing Director, to jumpstart the first session of the Leaders Forum course.
Every year, a topic relevant to current times is selected to help keep students up to date with trends, news, and innovation ideas that provide insight into the business world directly from the minds of outstanding speakers coming from different industries. This year's forum is focused on "Business in Post-Pandemic Future".
Mr. Chen currently leads LINE Taiwan as Managing Director and Executive Officer of Choco Media and LINE TV. With more than 17 years of experience in the mobile and telecommunications industry, Mr. Chen joined the company in October 2017 to undertake the overall business development and to fulfill the vision of becoming a "Smart Portal" by offering services across communication, entertainment and content, digital marketing, e-commerce, and Online Merges with Offline. Through multilateral collaboration within the LINE ecosystem, he has successfully created more business synergies that are mutually beneficial to partners from different vertical industries.
With the main theme of the COVID-19 pandemic impact on social media and content industry, Mr. Chen shared with the students how LINE handled the immediate effects of the emergency and how it has been contributing to the efforts of curbing the health crisis through strategies for future challenges. He briefly went over how LINE was created as a disaster response after the Tōhoku earthquake and tsunami struck Japan, and how the pandemic-caused difficulties resonated with the LINE team to create and improve services that would be beneficial to the population in these trying times.
"When the pandemic started our first priority was to keep our employees safe and help ourselves before adequately helping others. We are very sensitive to natural disasters; we were born out of one. It's in our DNA."
Additionally, he explained how existing features have been refined and new services added over the years, allowing LINE to become a "super app" not only used for messaging, but also including online shopping services, news, music, videos, TV, travel planning, and even financial services with LINE Pay and the launch of LINE Bank in 2021. He commented on how LINE understands the value of local operations, and the fact that each local market is free to launch their own services before expanding them horizontally throughout their network in the case that it proves successful.
Considering the current situation, Mr. Chen described how LINE focused on business continuity and impact assessment, creating a task force to counter COVID-19 that ranged from verified news communication to better online shopping services. He talked about the importance of mental health of Taiwan residents during the lockdown and how the company concentrated on streamlining the e-commerce and gift services that became very popular as a result of people being unable to meet physically.
Moreover, he stressed the importance of sharing truthful and transparent information. With the large number of users and traffic in the app, the chance to encounter false information increases exponentially. He addressed how the platform put great emphasis on fact-checking through specialized external organizations to ensure unbiased investigation and methodologies.
"Being an infrastructure provider comes with the obligation to regulate it. Our duty is to keep information transparent."
Furthermore, he covered how LINE has actively collaborated with the government through the introduction of quarantine check-in systems, notifications, and official accounts that relay quick and verified information.  Also, he mentioned other business solutions introduced with the official accounts during the pandemic, such as online medical consultation, online school communication system between teachers, parents, and students, and app sponsorship for the food and beverage industry.
Mr. Chen finalized the talk by introducing some of LINE's future projects envisioned to continue supporting industries affected by the COVID-19 pandemic. He also highlighted the changes to LINE's office work model after the pandemic, including the flexibility of working from home and hybrid work which have shown greater efficiency.
The session ended with a Q&A section in which students were free to share their thoughts and took the opportunity to thank Mr. Chen for his participation in the forum.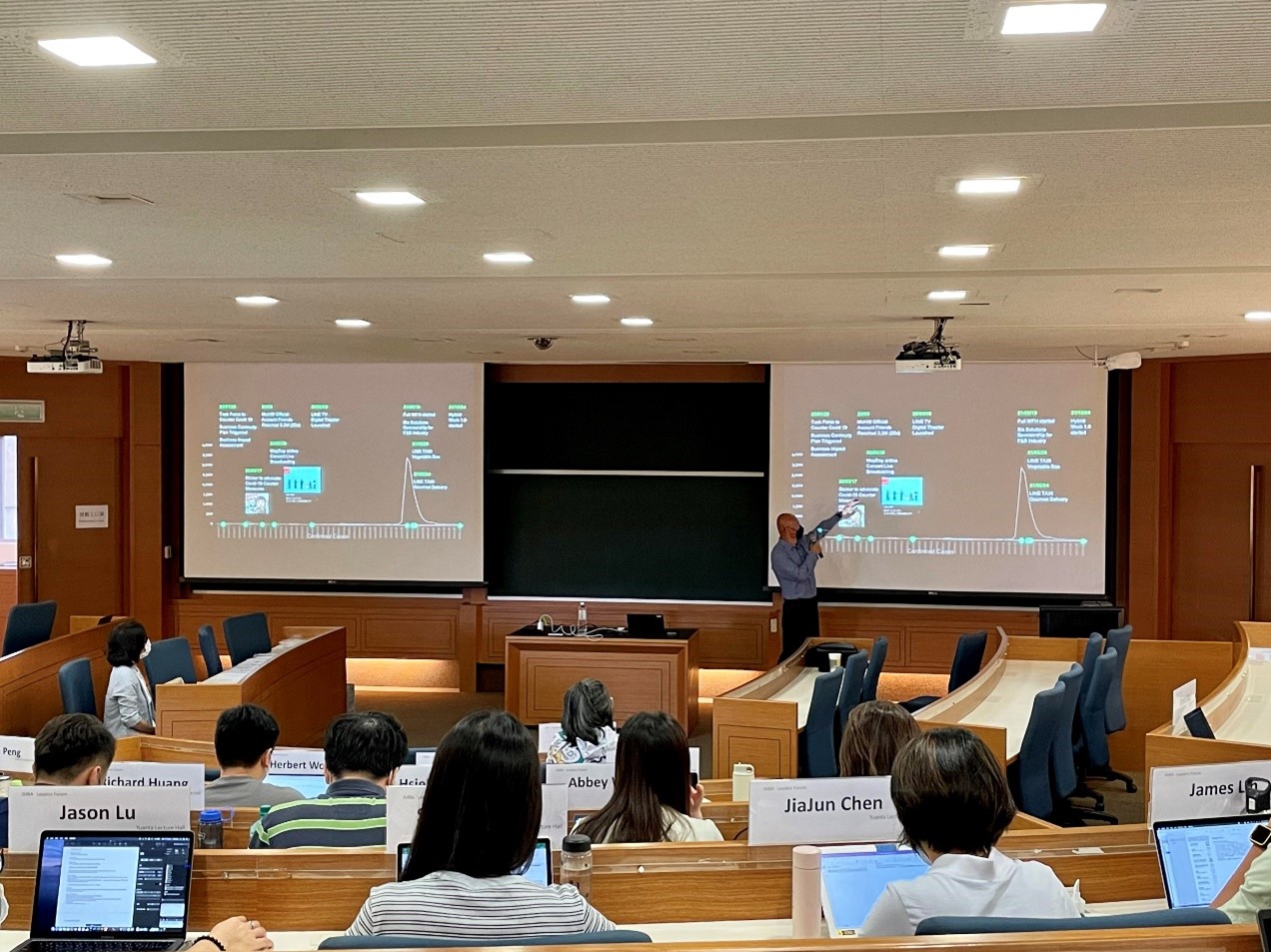 Mr. Chen explaining LINE Taiwan's strategies during the COVID-19 pandemic.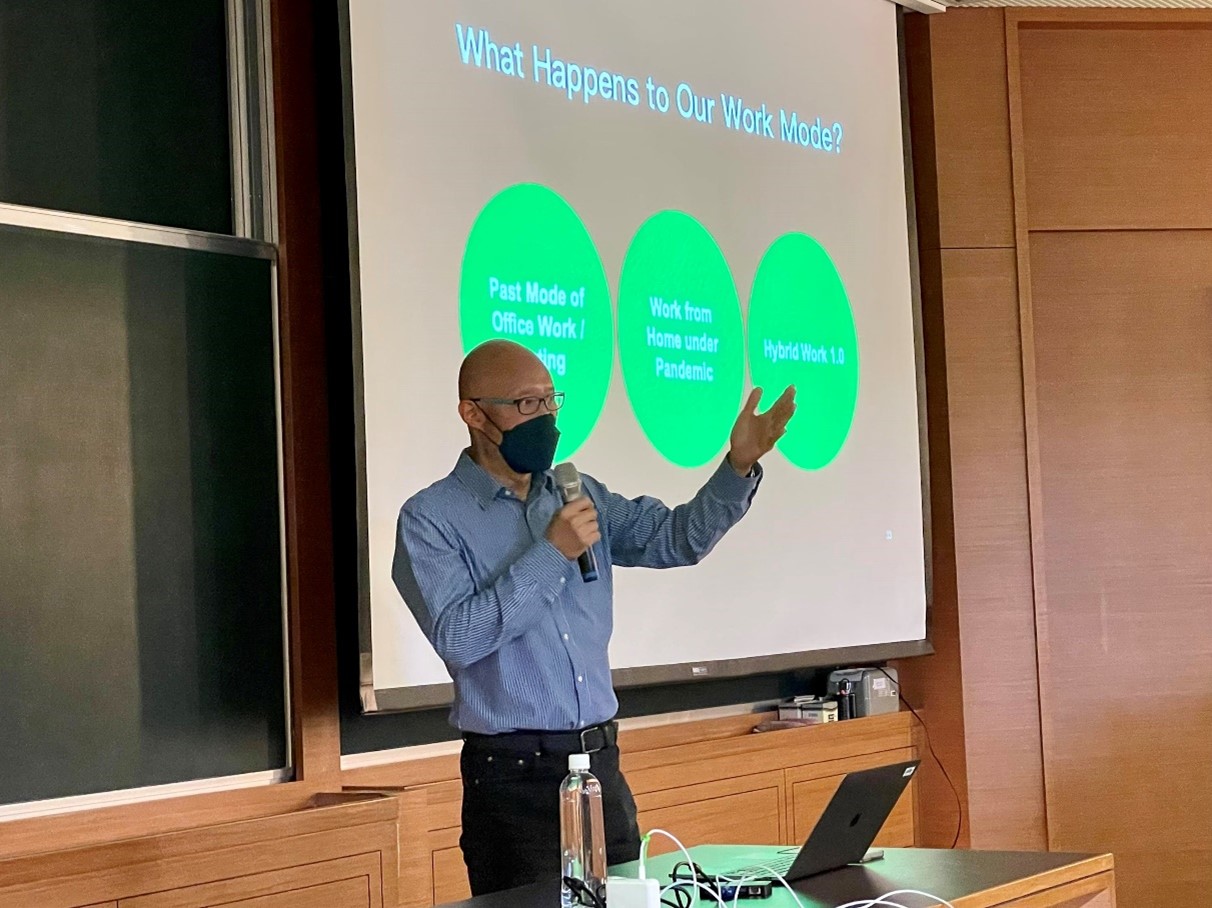 Mr. Chen sharing his views during the presentation.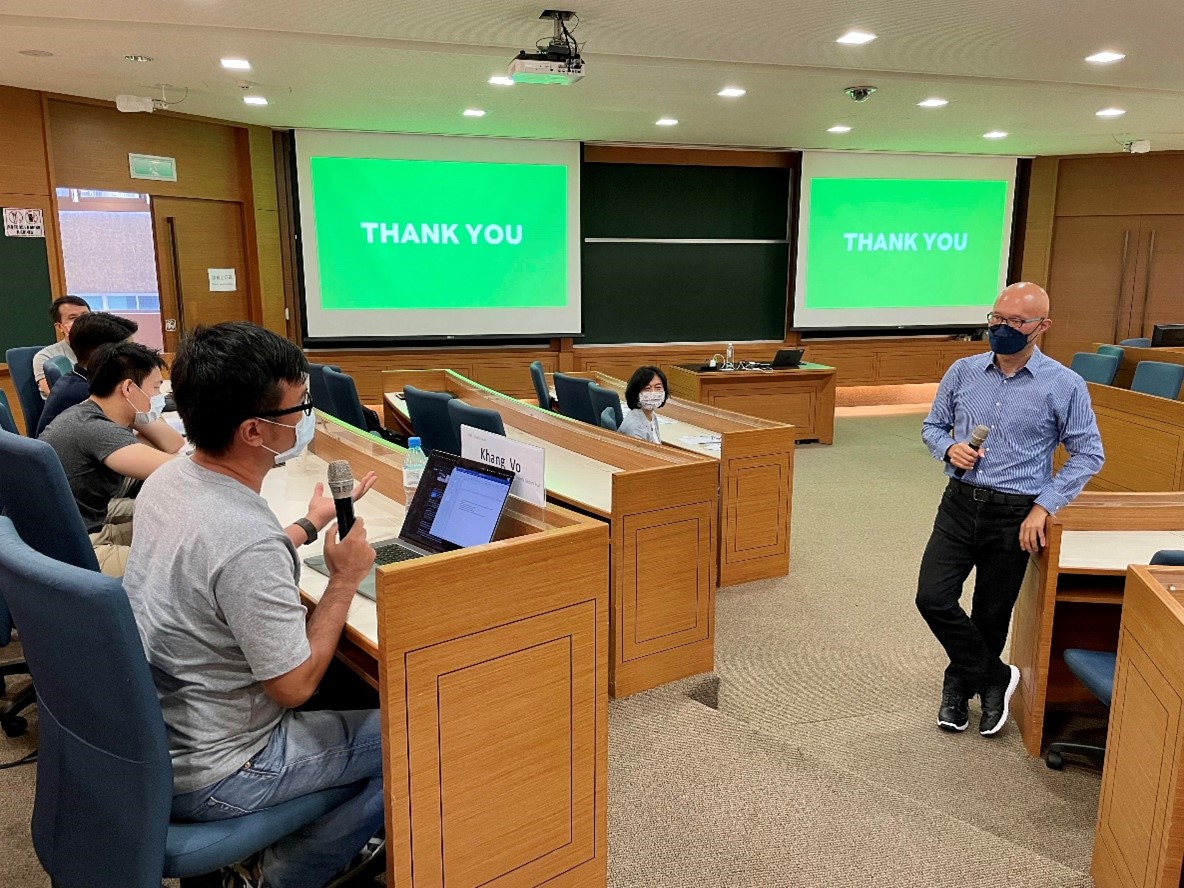 Students were eager to ask questions and engage in discussion.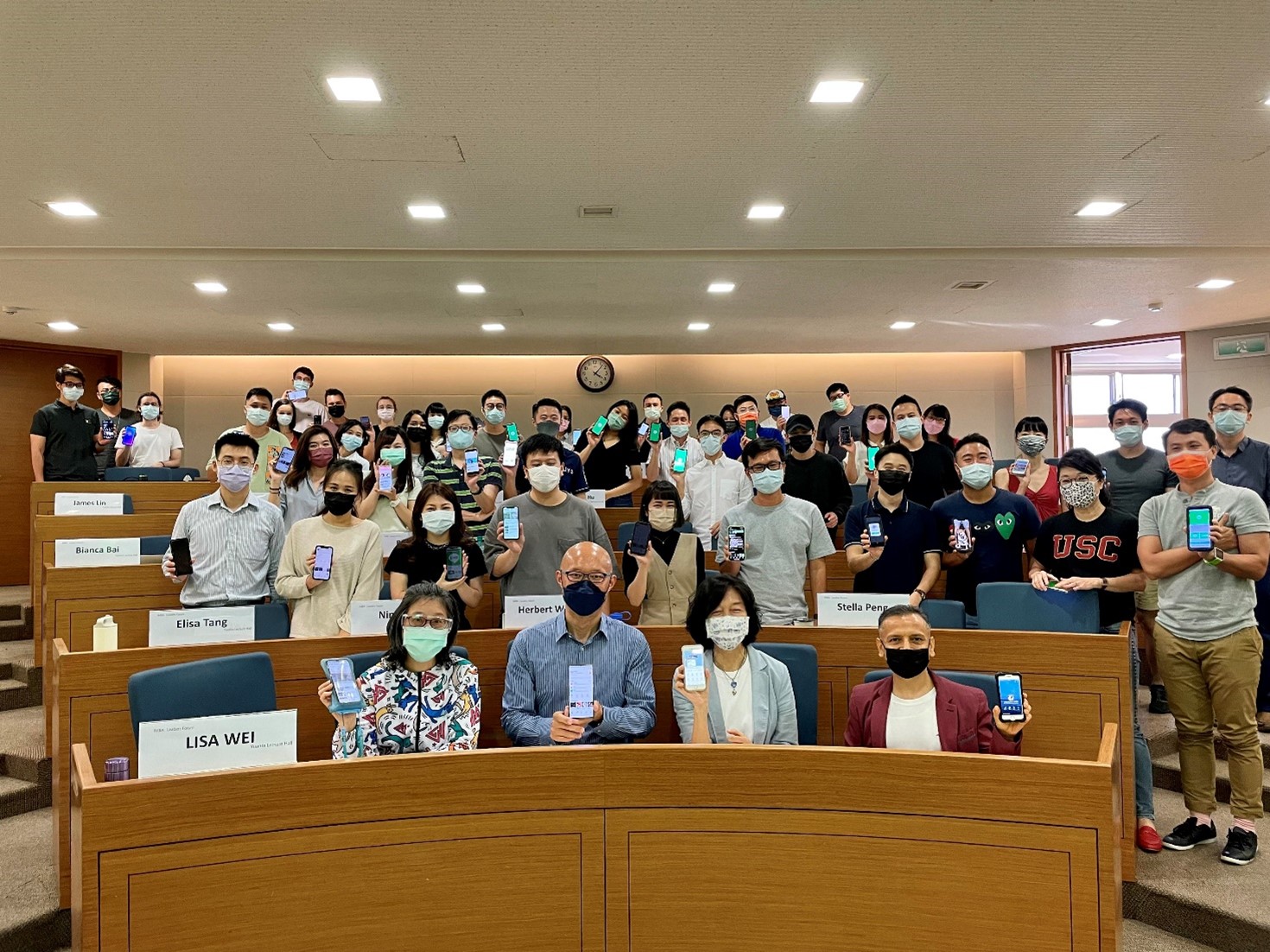 Mr. Chen, Professor Shari Shang, and IMBA students and Alumni pose with LINE opened in their phones.