TAIPEI, Nov. 13
th
, 2021. This past Saturday saw the conclusion of another successful Leaders Forum course, with a remarkable presentation given by Mr. ST Liew, President of Qualcomm Technologies, Inc. and President of Qualcomm Taiwan & Southeast Asia.
Mr. Liew has more than 30 years of experience leading business and engineering teams in the telecommunications industry. Prior to Qualcomm, he was President of Acer's Smart Products Business Group which focused on R&D and Sales of non-PC lines of product for the global market. He also worked for over 18 years in Motorola, where he was responsible for a variety of R&D projects and Product Planning.  Mr. Liew was born in Malaysia, holds a BSc. in Electrical and Electronic Engineering from the University of Leeds, UK, and received his MBA from the National University of Singapore. Given his vast expertise, he gave a forward-looking speech on global trends and shares in the innovation era driven by 5G and other cutting-edge technologies.
The session began with Mr. Liew highlighting the importance of 5G technology and its impact on the economy and industry.  He mentioned how 5G is not something that was suddenly invented yesterday. It is the culmination of decades of R&D, engineering, lessons learned, and the mentality of betting big on the future, all put together into hardware and software that is fundamentally reshaping our lives by connecting everything, everyone, everywhere to make life more comfortable.
As the world's leading wireless technology innovator and the driving force behind the development, launch, and expansion of 5G, Qualcomm has been in the ceaseless endeavor of bringing the benefits of 5G to industries of new and old. Traditional industries like agriculture, healthcare, retail,  and manufacturing have been positively impacted by the implementation of connectivity with intelligence, multiplying the results and making the processes more efficient all around. For new industries, such as Internet of Things, Smart Cities, Computing, and the continuously modernization in the automotive world, 5G has propelled control and quality of service to lead the world to an environment where everyone and everything can interact seamlessly with each other.
"Technology liberates you; it gives you the ability to solve problems more easily. But it can also burden you. How to properly use and control technology is up to you."
Mr. Liew explained that aside from underscoring all the best features and applications of 5G, it was also necessary to have big picture thinking on sustainability issues. One of the global challenges for every industry and every company is to minimize environmental impact. Not only is this key for better and more energy-efficient processes, but also helps in the larger scale efforts of protecting the environment and the basic resources for everyone. Qualcomm is committed to continually look for ways  to conserve water, reduce energy consumption, lower CO2 emissions, and reduce waste by designing energy efficient processes and facilities into their infrastructure.
Mr. Liew remarked that the COVID-19 health crisis was the moment where preparation met opportunity. 15 years ago, the impact of the pandemic would have been very different, not only communications wise, but also in biotech advancements that supported the rapid developments of vaccines. Although it obviously brought with it many difficulties for society, Qualcomm was able to help and support many of their customers driven by their enthusiasm for innovation and passion for invention.
To conclude the session, Mr. Liew mentioned that, as important as it is for companies to develop smart solutions, it is equally critical for young leaders and entrepreneurs to create their own opportunities. He encouraged the students present on analyzing the horizontal possibilities created by the boom of 5G innovations to provide vertically integrated business models in the form of startups to take advantage of the newest technologies.
"It takes leadership, it takes guts, and a few failures. But we can all make a difference."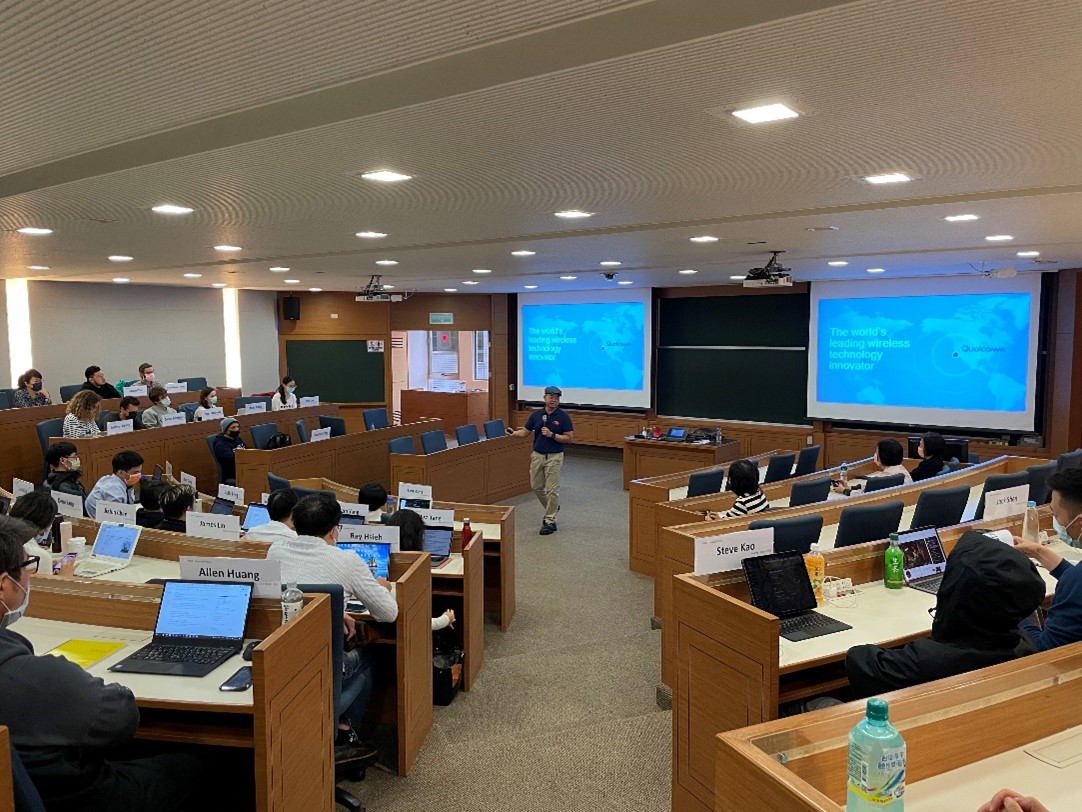 Mr. Liew during his presentation.
Students expressed their views on 5G technology and implementations.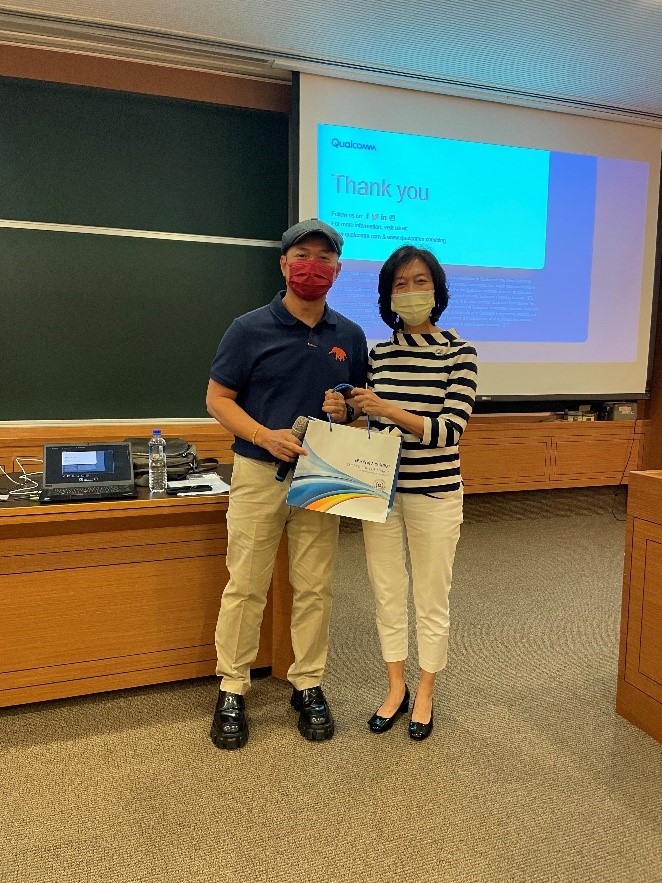 Professor Shang presents Mr. Liew with a token of appreciation on behalf of the IMBA program.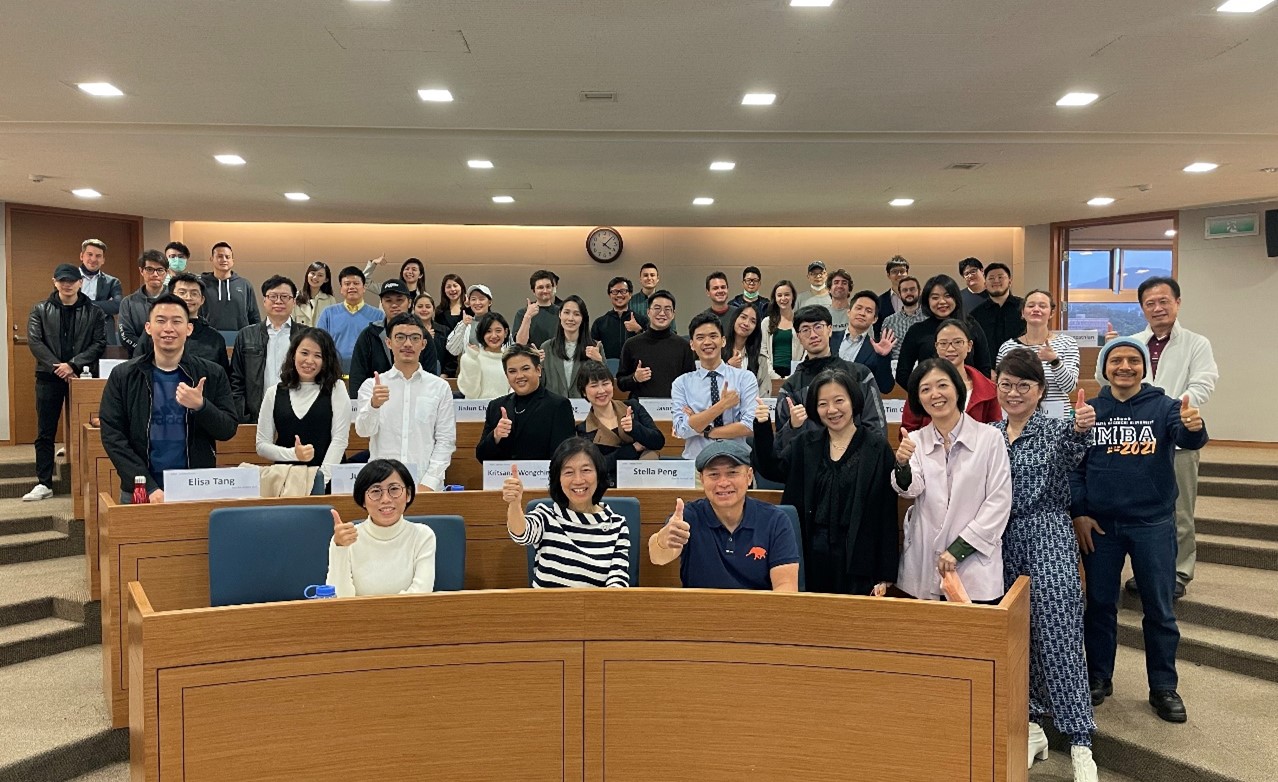 Mr. ST Liew with Professor Shari Shang and IMBA students and Alumni.