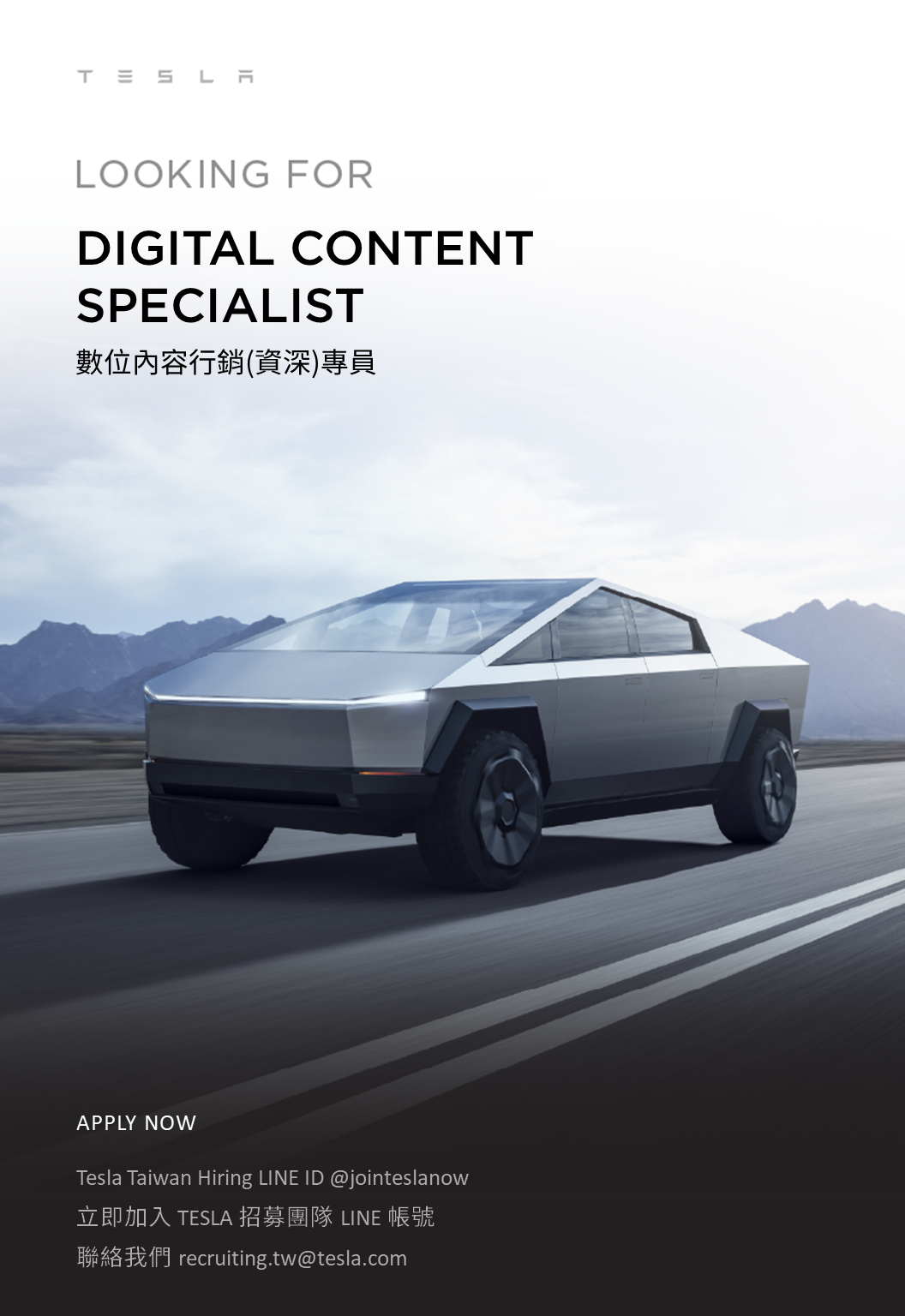 Job Title
:
Digital and Content Specialist
​​​​​​​
Job Category:
Operations & Business Support
Location:
Taipei, Taipei City
Req. ID:
131899
Job Type:
Full-time
Apply:
https://www.tesla.com/careers/search/job/apply/131899
What You'll Do

:
Work with the Senior Marketing and communications Manager to develop targeted marketing plans with a coherent integration of marketing tactics, digital and CRM activities to achieve business goals. 

Assist in the development, management and implementation of a comprehensive campaign calendar with centralized tracking of all regional marketing events including O2O lead generation events, digital partnership events and external corporate events. 

Manage and initial content creative projects for external newsletters, collateral, digital content and customer communication/ retention (i.e. emails and letters). 

Assist in inbound and outbound communications including customer letters and email for relevant marketing inboxes. 

Assist in the development of in-store programs and campaigns to engage existing leads and create new leads. 

Work with communications team on consistent and effective messaging of external documents and promotional materials to support our marketing activities (e.g. collateral) 

Manage outside agencies and vendors on a needed basis. 

Evaluate and track the success of programs and campaigns. 

Effectively deliver results of marketing objectives within the designated and agreed budgets. 

Ensure compliance with global brand strategy and corporate identity for Tesla Motors.
What You'll Bring

:
Minimum 3 years+ experience in digital marketing and integrated marcomms. 

BA or Master in Business Administration, marketing, communication or other related degree with proven track experience. 

Excellent communication skills and fluency in Mandarin and English 

Excellent copy-writer in both English and Chinese 

LINE development experience is necessary , web and data experience would be plus 

Maintain a high sense of urgency and entrepreneurial work ethic that is required to drive business outcomes 

Exceptional strategic thinker and analytical skills; ability to address cross-functional and cross-organizational issues independently, including collaborating with teams from different countries. 

Highly organized with the ability to manage multiple projects while meeting deadlines. 

Result driven, hands-on, positive

"

can do

"

attitude, passionate and able to show commitment and to inspire others 

Proficient in MS Office, IOS, Photoshop, AI 

Proven ability to work in a fast-paced, dynamic and deadline-oriented environment 

Large company discipline...small company entrepreneurial attitude 

Strategically planning with strong project execution and negotiation skills 

Asset management experience/ Good negotiation skills 

Digital Agency management/ Online to Office event coordination experience is preferred