TAIPEI, Oct. 30, 2021. NCCU was glad to welcome back to campus one of its distinguished alumni, Mr. Richard Hu, General Manager and Site Leader of Philips Taiwan's Health Systems for the third session of Leaders Forum during Saturday afternoon.
Mr. Hu has extensive experience managing the local business units of various multinational companies in Asian markets, especially China and Taiwan, in addition to managing international sales & marketing for a wide variety of their products. Before joining Philips, Mr. Hu worked for Johnson & Johnson, Alcon & Bionime. He graduated from the department of Sociology at National Chengchi University and earned his MBA degree at the University of Illinois.
The session commenced with a brief recap of Philips' rich history. The company, which this year celebrated its 130
th
anniversary, was founded on innovation and entrepreneurship and became one of the largest electronics companies in the world. Reinventing itself many times, it shifted its strategic focus during the last decade from consumer electronics to healthcare technology. In Taiwan, it has been regarded as one of the most renowned and trustworthy foreign companies.
Mr. Hu explained Philips' commitment to improving people's lives through meaningful innovations in the field of healthcare. He mentioned that Philips has identified four main trends that are shaping the future of health technology: global resource constraints, ageing population and rise of chronic illnesses, increase of customer engagement, and the importance of digitalization.  Driven by these trends, they are able to help their customers address the quadruple aim in which the patient and staff experience is greatly improved and the cost of care is reduced, to ultimately reach better health outcomes for everyone.
He then continued to highlight the importance of creating meaningful innovation that can make uncomfortable medical procedures better for the patients. One example he gave was the MRI Ambient Experience. For patients who are scheduled to undergo an MRI, the anticipation of a diagnosis can be intensely stressful. Getting the actual exam may be a gruesome affair for some, causing anxiety and affecting the overall performance of the machine, disrupting the staff's workflow, and harming the final diagnosis, which can result in the exam being repeated. The Ambient Experience aims to reduce this kind of situations by integrating architecture, design and enabling technologies, such as dynamic lighting and sound, to allow patients and staff to personalize their environment to create a calming atmosphere. Patients are able to select room themes and sounds, empowering them to be involved in their own care, comply with instructions and relax. Not only does this improve the procedure for the patient, but it also helps streamline the workflow for the staff, being more efficient, and allows them to provide better care.
Mr. Hu also stated how users now view digitalization and connection as a very important part of a product or service. To address this, Philips has smart integrated connected care for patients and caregivers, leading to clear care pathways and enable healthier lifestyles through personal hygiene and therapy for chronic illnesses.
About the COVID-19 effects on Philips Taiwan, Mr. Hu said that employee health and safety were always the company's number one priority. He described how the company had to make quick decisions according to the pandemic's escalating situation. Some of the policies introduced included the formation of a Crisis Management Team, flexible work schedules, and the education of employees on culture change. Although their approach was to be more cautious than what the government required, Mr. Hu commented how it was very important for the leaders to educate the workforce on the right concept of the pandemic to avoid workplace discrimination, have compassion, and support each other on these difficult times.
To wrap up, Mr. Hu showed data of the effects of COVID-19 on healthcare spending and hospital visits. People in Taiwan visited health centers less frequently, resulting on lower income for the healthcare industry. However, since it is a worldwide health crisis, it is counterintuitive to conclude it in a simple way, since there are many factors that take part in the analysis.
Finally, Mr. Hu answered some of the questions asked by the students, talking about how Philips is moving ahead and speeding up the digital transformation for better services as the future of the company.
"By selling solutions, not boxes, we will achieve sustainable business."
He finished by advising students on important leadership skills. For Mr. Hu, some quality soft skills like determination, teamwork, perseverance, and hard work are critical to a person in a managing position. Without them, one can be a nice person but not a very good business leader. Therefore, a manager should take these values into account, in addition to open mindedness, empathy, and innovation to be a great leader.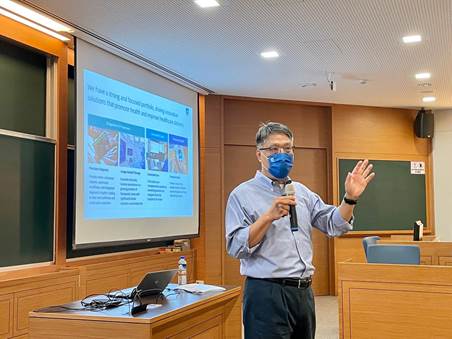 Mr. Hu during his presentation.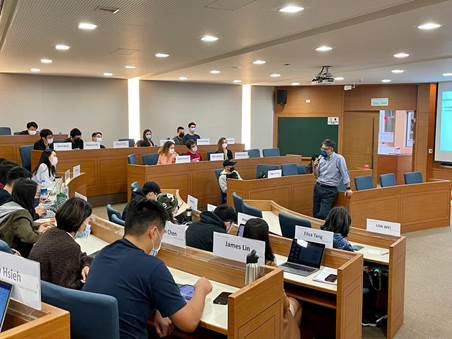 Mr. Hu discussing Philips Taiwan's culture change and strategic refocusing.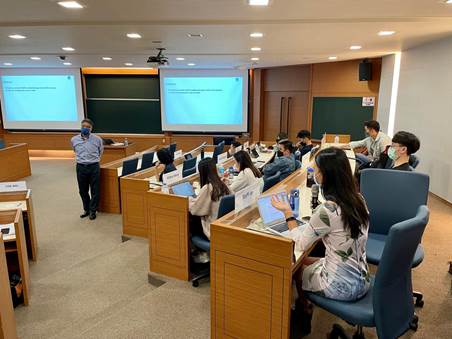 Students were able to raise interesting questions about the healthcare field.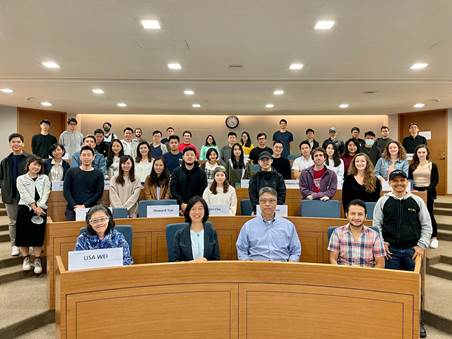 Mr. Richard Hu with Professor Shang and IMBA students and Alumni.