​TAIPEI, Oct. 23, 2021. IMBA students and alumni were treated to an exciting, fine-tuned speech as the College of Commerce halls greeted Mr. Mathias Busse, CEO of Porsche Taiwan, for the second Leaders Forum session this past Saturday.
Mr. Busse has accumulated rich experience in the automotive industry for over twenty years. He first joined the Porsche Group in 2009 where he started as Sales Manager at the Porsche Berlin GmbH branch. By 2011, he had already ascended to General Manager of Porsche Hamburg, and due to his outstanding leadership and hard work he was soon appointed CEO and Chairman of the Porsche Niederlassung Hamburg GmbH branch. Since September 2018, he has been serving as Chief Executive Officer of Porsche Taiwan.
Keeping in line with the forum topic of "Business in Post-Pandemic Future", Mr. Busse shared with us the strategic direction of Porsche in the global market, how they survived and succeeded in the period of the COVID-19 pandemic, and future challenges and opportunities for the industry.
He started the talk by emphasizing the importance of adapting and responding to changes in the environment to survive and succeed. The challenges caused by the continuous transformation of the automotive industry has prompted Porsche to tackle the technological and social developments as opportunities to innovate and reach more customers.
Mr. Busse further explained how the swift creation of task forces against the COVID-19 crisis helped curb the supply chain problems at Porsche, and as a result the company managed to hit their operating profit target in 2020 despite the pandemic, even predicting a positive trend for the upcoming months.  Several markets, such as the American market, are picking up again, while worldwide markets have shown stable growth. This includes subsidiaries such as the Taiwan branch that, despite being relatively new, demonstrates great potential with a significant segment share versus its main competitors. Central to this potential is the development of smart e-mobility solutions, software and AI, hassle-free connectivity, practical user experience, and digitalization.
For Mr. Busse, digital transformation is the key to success. With customers becoming ever so demanding, Porsche has focused on developing a high-quality digital portfolio for products (such as charging networks), customer relations (with an AR/VR configurator becoming more and more important for customization), and business processes to enhance the user's digital experience. This, in addition to top notch facilities, modern production sites, and experience centers and showrooms have allowed business to remain strong and for Porsche to be the 2
nd
 strongest brand for electric vehicles after Tesla.
To end his presentation, Mr. Busse addressed the significance of CSR for the company, mentioning the partnerships with Boyo Social Welfare Foundation aiming to help disadvantaged and aboriginal families break free from the vicious cycle of poverty through education, and the partnership with The Society of Wilderness, dedicated to protecting the natural and ecological environment in Taiwan. In addition, he mentioned how Porsche takes great care to look for and use sustainable resources and materials from suppliers to reduce carbon emissions.
Students then poured their questions in for the Q&A section, prompting interesting discussion and insight from Mr. Busse on not only the future of the automotive industry but also personal management standards. This included sincere advice on how to become an effective leader and valuable leadership qualities. He highlighted the importance of learning as much as you can and to always follow your principles, even in the face of adversity.
"There's always challenges but you have to keep on going. You must have a positive mindset and be ready to face them."
He also underscored the attributes which have helped him along the path of becoming a CEO, such as being hardworking, patient, a team player, and having an open mind, especially when joining a multicultural team in a foreign country. He said it is indispensable to understand how your team members work and contribute to the common effort and also to learn about their strengths and weaknesses. True leadership lies within creating synergy and a proper team mentality to obtain the best performance of each person whilst considering varying age groups and different cultural mindsets. In the end, Mr. Busse remarked, the key to being successful with your team is to be happy with it.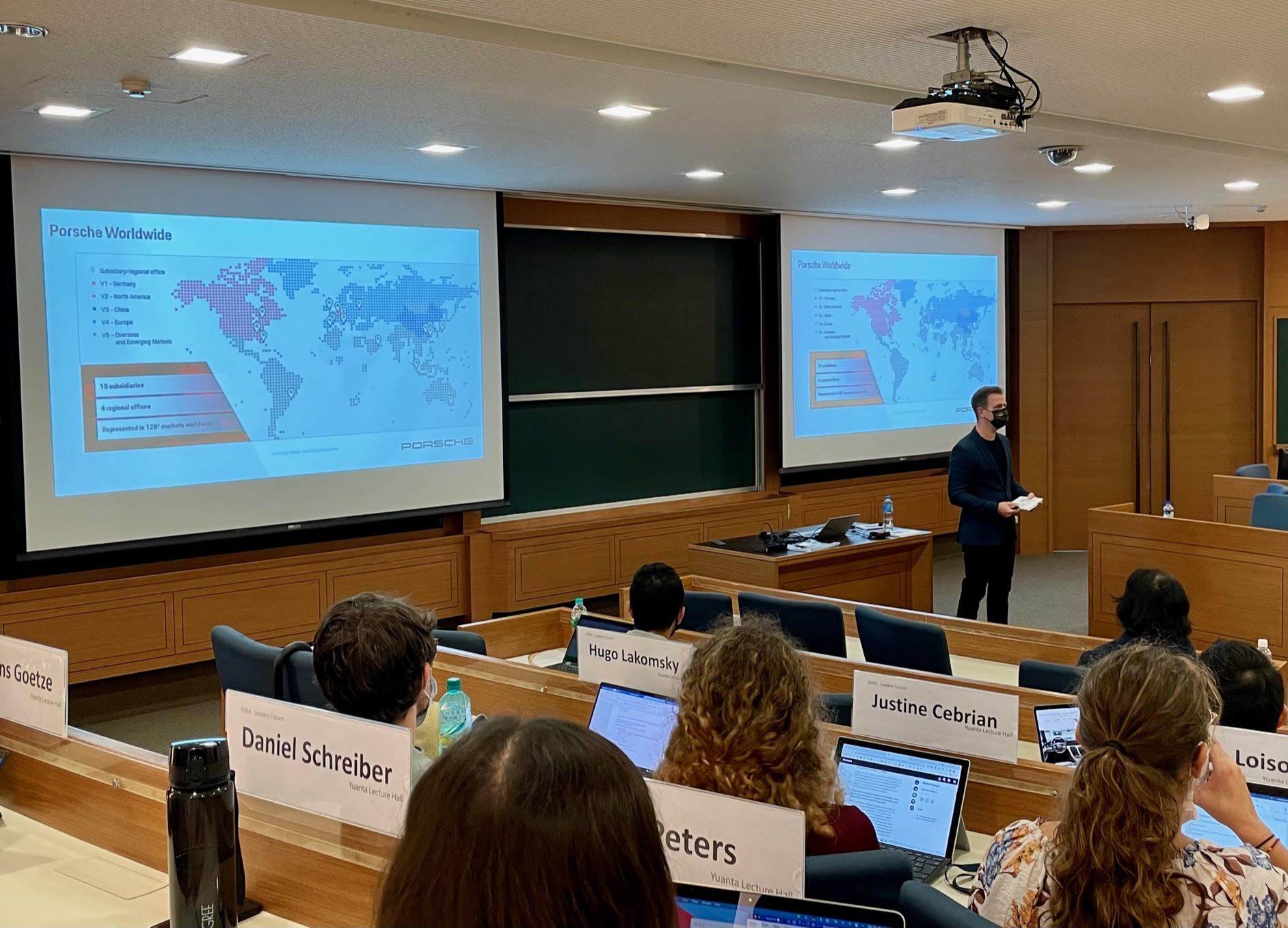 Mr. Busse during his presentation.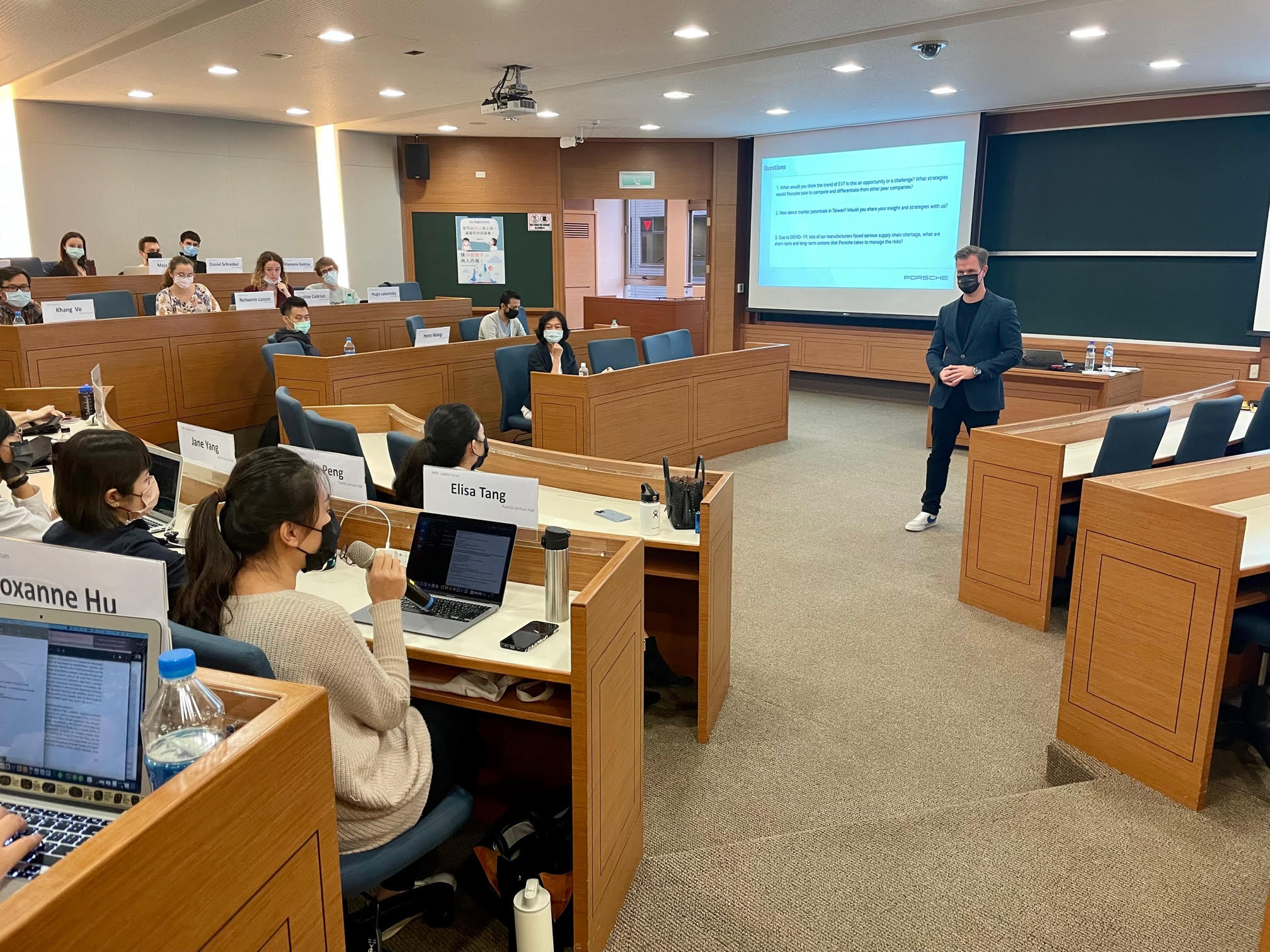 The round of Q&A gave plenty of room for discussion and insight for the students to takeaway.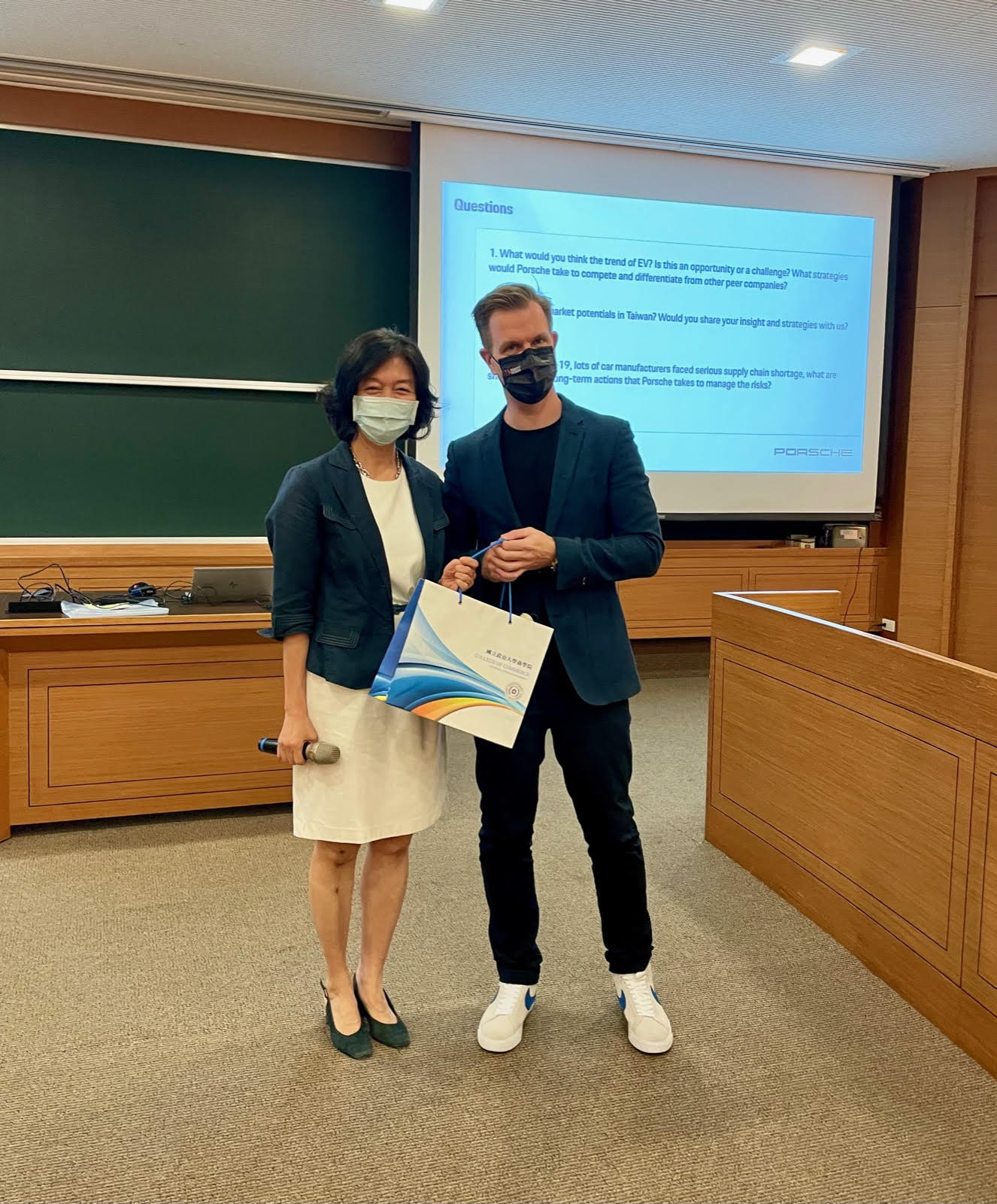 Professor Shari Shang thanks Mr. Busse for his participation on the forum.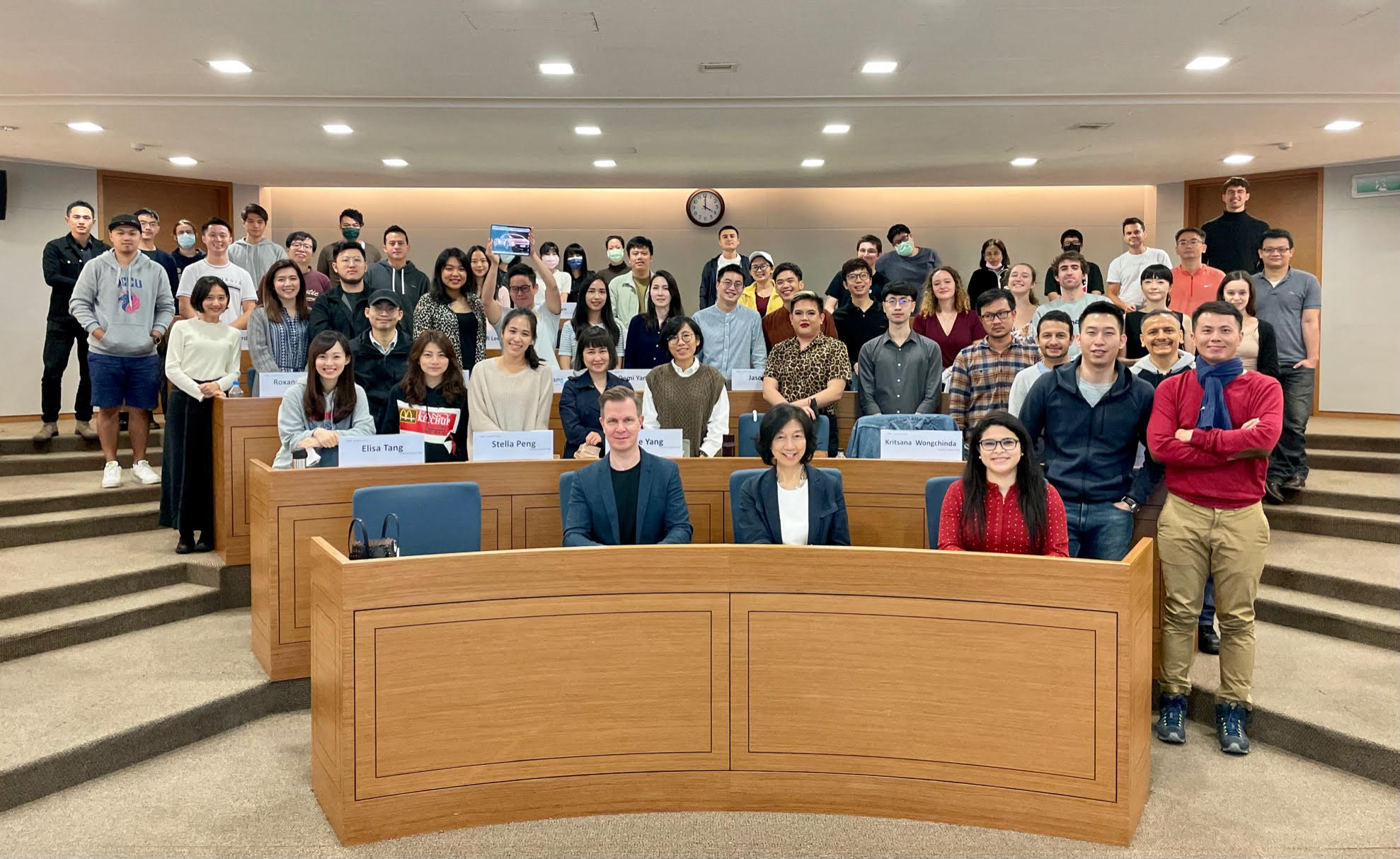 Mr. Busse with Professor Shang and IMBA students and Alumni after the end of the discussion.