October 29 - Speaker: Thomas Hu
Thomas Hsu is a writer, venture capitalist and value investment hacker. Prior to founding Kyber he was the co-founder and lead generalist for the High Yield Credit Investment business at CDIB Capital in Hong Kong focusing on event-driven investment opportunities in leveraged finance. Prior to joining CDIB Capital he was with Epoch Investment Partners in New York covering Asian equities and quantitative investment strategies. Thomas holds advanced degrees from Columbia University and National Taiwan University.
His speech title was "Blockchain and FinTech Innovation: A New Paradigm", and it covered the importance of technology innovation in every industry around the globe, and particularly how Distributed Ledger Technology is transforming, and will continue to transform, future financial services infrastructure. He stressed on the importance of Blockchain technology and how its safe infrastructure makes it so attractive for financial innovation and inclusion. He went over some examples like BitCoin, and smart contracts. To conclude his speech he invited the audience to think about if blockchains really are strong, secure, powerful, and even potentially scalable, and if you add virtual reality and artificial intelligence to the mix, our reality resembles the movie 'The Matrix', or at least we are getting really close to living in that computer-controlled reality.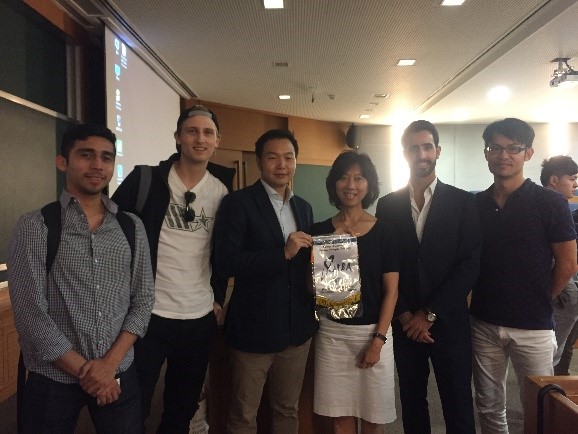 November 5 - Speaker: Jason Hsu Ph.D.
Jason Hsu is the founder and CEO of Rayliant Global Advisors, a leading provider of Smart Beta strategies in Asia. Prior founding Rayliant Global Advisors, he co-founded Research Affiliates LLC, a global leader in innovative indexing and asset allocation strategies, which was positioned to shake up North American and European markets. He is a trustee in CFA Institute Research Foundation, a not-for-profit organization that sponsors independent research for investors and investment professionals around the world. He has also been an editor in some financial journals. Jason holds degrees from UCLA, Stanford and Caltech, and is a visiting professor at NCCU and UCI.
The title of his speech was "Glass ceiling or baby elephant syndrome". This talk explores the "stereotypical" Asian leadership style versus the modern leadership model. He addressed the differences of effective leaders versus typical bosses, that is, people who just have a powerful position but no one wants to follow them. He explained that in order to be good leaders and achieve our mission and vision in a company, being authentic and vulnerable is key, as well as learning to listen to people and paying attention on who works for us, but also we need to know what we are leading our team to do, so we can build trust over time. Regarding the 'baby elephant syndrome', he explained that sometimes there are limitations that don't allow us to grow, but also other times our biggest inhibitors might be something we grew up with, so if we want to be successful, we need to exploit every opportunity to improve ourselves, step out of our comfort zone and do what is needed to get over these false boundaries and limitations.