Sandra Liu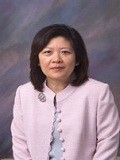 Professor, Department of Consumer Science & Department of Public Health, Purdue University, West Lafayette, IN, USA
Ph.D., Institute of Education, University of London, London, UK
Email: drsandraliu@gmail.com

Curriculum Vitae
Prof. Sandra S. Liu joined Purdue University as a faculty member in 2001 and is currently Professor in Department of Consumer Science and Director of Center for Global Urban Sustainability. She is also an Adjunct Professor in the International MBA (IMBA) program at National Chengchi University. 
 
After attaining her Ph.D. in Higher Education Policy from University of London, Dr. Liu continued her training of planning and managing EMBA programs at the Kellogg Graduate School of Management, Northwestern University. She also has a MBA from Pepperdine University, MS in both Preventive Medicine and Pharmacology from the Ohio State University, and a Bachelor's Degree in Pharmacy from Taipei Medical College (Taiwan). Prior to becoming an academic in 1990, Dr. Liu had extensive experiences in the pharmaceutical industry in the capacities of research and development, clinical research, and sales and marketing. The geographical areas under her auspices included the national US market and a number of Asian territories, including Korea, China, Taiwan, Hong Kong, the Philippines, Singapore, Malaysia, Thailand, and Indonesia. Dr. Liu has been an author of many books, including two that were written with Philip Kotler, the master of marketing, and their Chinese version were published in China. Dr. Liu has also been active in conducting consultancy and executive training programs in Asia, Europe, and the US, such as 3M (Hong Kong), Peopleware (Hong Kong), Sui-Hing Retailing (Hong Kong), Rosemond International (Hong Kong), Artal Food (Hong Kong), Tianyi Advertising (China), Haizheng Pharmaceuticals (China), Zhenhua Heavy Industries Co. Ltd. (China), China Hospital Association and Bayer Healthcare (China), Allergan Pharmaceuticals (US), Ely Lilly (US), National Oilwell Vargo (US), Wishard Health Services (US), Ascension Health (US), and Local Health Departments in Indiana (US). Her expertise centers around business modeling and the strategic marketing, branding, selling and sales management, and leadership for startups and transforming organizations. 



 
Research Interests
---
Strategic marketing, entrepreneurship, strategic leadership in an e-environment

Leadership and business modeling for developing healthy communities/cities, building accountable care organizations and health-promoting hospitals, and quality improvement and performance management in health departments.


Teaching Interests
---
Business modeling and the strategic marketing, branding, selling and sales management

Leadership for startups and transforming organizations