Advantages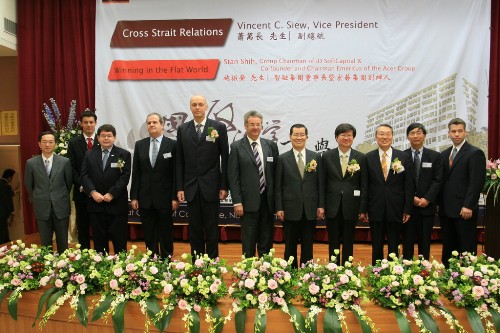 The International MBA (IMBA) program offered by National Chengchi University (NCCU) is the premier English-taught MBA program in Taiwan. The program has dual accreditation by AACSB and EQUIS and emphasizes the cultivation of elite professionals from around the world into future business leaders in an international environment. With the continued growth of Asia's emerging economies and the expansion of firms on a global scale, the NCCU IMBA offers the perfect venue for international candidates to learn about Asian economies and for Taiwanese candidates to benefit from an international education without traveling abroad.
Global View with an Asian Perspective
The unique design of the IMBA curriculum aims to equip students with the foundational knowledge of commerce and leverage on this to provide students with a global view as well as an Asian perspective of the world's latest business trends. Students have the option of specializing in Management in Asia. While all courses capture an international outlook of business and how it applies in the Asian context, certain courses concentrate mainly on practices within Asia.
Diverse Student Body and World Class Faculty
The IMBA program provides an optimal international and multicultural learning environment by maintaining balance in the number of Taiwanese citizens and international students are admitted to the program. The international students represent a diverse mix of professionals from more than 50 countries on five continents. This is complemented by the guidance they receive from a faculty base comprised of academics and industry experts in Taiwan and from around the world.
Theory and Practice
The program is designed to provide a meaningful balance between theoretical and practical learning. A majority of courses apply the case study method, which enables participants to learn by doing and teaching others. Specially designed classes also provide students with the opportunity to get involved with real world business problem decision-making as well as business cases.
Strong Links with the Business Community
NCCUC has strong ties with industry and the government of Taiwan, and has various collaborative researches across a wide array of initiatives. Students are given ample opportunities to interact with real world business leaders who are invited to teach courses based on their professional disciplines and through numerous seminars held throughout each academic year of the program.
Prime Location
The IMBA program is conveniently located in the Wenshan district of Taipei, the capital city of Taiwan and the heart of Asia's budding financial, commercial, and technological hub. Apart from being well known for its IT infrastructure and manufacturing prowess, Taiwan is slated to be a catalyst in the future development and advancement of Asia. The beauty of our IMBA program is that we are directly in the middle of this blossoming progress.